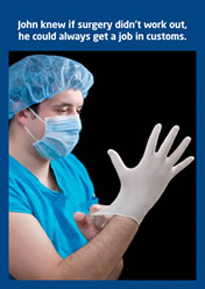 If you have to have a heart attack, if you must, what better place to find yourself than in a roomful of cardiac surgeons? Not in Rochdale, no Siree.
Not their job you see. They pressed the panic buzzer for the cardiac resuscitation team, the 'crash team' of Emergency Ward 10 fame. Nothing happened.
They hit the panic button again, still nothing. No one had told them that the 'crash team' had moved to another hospital.
They called security and demanded to know why the crash team had not so far burst through the door, paddles at the ready, to revive their patient.
Security told them to phone 999 and call for an ambulance…er, this particular group of cardiac surgeons were standing in their operating room in the heart of the hospital surrounding their unconscious patient with the be-still-my-not-beating heart. You might have expected them to do something themselves at this point…
Finally security gave them the special number for the 'enhanced care team' based somewhere in the bowels of the hospital who were trained in rudimentary techniques like thumping the patient on the chest…..
At this point they apparently remembered that they were all Doctors and cardiac specialists as well and grudgingly revived the patient themselves. Phew!
The surgery team was apparently unaware that they were supposed to summon [the enhanced care team] by phoning a special internal number.
A memo has now been issued to staff reminding them of the changes.
That's a relief; in the meantime, avoid Rochdale Infirmary like the plague if you think you might need a Doctor as opposed to an 'urgent care centre' which apparently Rochdale Infirmary has been downgraded to – but still carrying out heart operations.
There has been no comment from the poor blighter who had the misfortune to suffer a heart attack on the operating table.
You couldn't make it up.
July 5, 2011 at 11:57







July 5, 2011 at 12:00




July 5, 2011 at 10:09







July 4, 2011 at 21:01




July 4, 2011 at 20:15







July 4, 2011 at 11:19







July 4, 2011 at 08:07