Raccoongate? No way, José!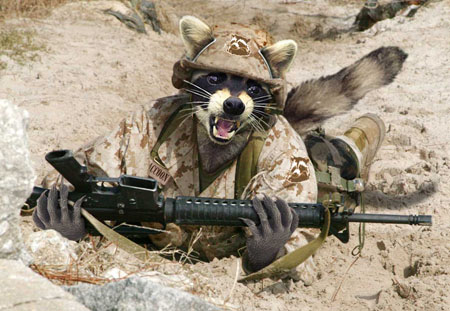 Hello my darlings! It's been an eventful week. Action packed as they say, and Ms Raccoon has a fight on her hands; fear not, we will win.
So, pour yourself a drink, make it a double; I have lots to tell you, and I'm only going to say it once, then we shan't mention it again. OK? Got that?
We have a very young replacement Doctor here in the village, doesn't look old enough to be out of high school, never mind medical college, but our fantastic Doctor was sick himself, with cancer, and young Sebastian was the first available to stand in for him. We all looked askance at him, and determined that we wouldn't get sick until old Dr L was back in post again. Which he will be, next month.
Hence I hadn't been to the Doctor for some months; I had a repeat prescription for six months and it was only when it was due to run out that last Thursday I reluctantly went for the routine blood test I needed to renew it.
A few hours later, young Sebastian rang me – half past eight at night! Was I in pain? Did I need him to come and see me? Had the arthritis flared up again? No, it hadn't, I wasn't, I was in perfect health, and had just settled down to watch a good film! Was I sure? Yep, positive I said – thinking he had taken leave of his senses. The next morning the surgery rang again, would I re-take the blood test, there had been a misunderstanding…
I did so, and a few hours later, there was young Sebastian once more – I had to come and see him, he absolutely insisted; grumbling and complaining, I did. He prodded and poked, pulled at joints, with me complaining every inch of the way that there was nothing wrong whatsoever, and finally jabbed me so hard that he got an 'ouch'.
'Ha!' he said. 'Thought so'. 'You have a cyst.' That was last Friday night.
Nervous young Doctors standing in for a legend like Dr L do sit in their office late at night puzzling over curious blood results – thank God they do. By Saturday morning he had me in the hospital, since when I have been scanned, tested, punctured from head to foot and God knows where else – but the end result is that I do have ovarian cancer – without a single symptom known to me. I have a bloody great tumour the size of a football, and it has to go. Totally surplus to requirements.
Today, just seven days later, I have just returned from the world class Bergonnie Cancer Institute in Bordeaux. Apparently removing this parasitical useless object is expected to take five hours and they need to re-jig their operating lists to do so in the next week or so, and then it is chemotherapy for me.
I've hesitated over telling you all, and absolutely the last thing I want to do is turn this blog into a 'all the gory details of how I beat cancer' – after this conversation I never want to hear mention of the damn thing again.
I love the atmosphere of this blog, I love the way you send me rushing off to Google to even begin to understand what you are talking about sometimes, I love the way you make me laugh; and I know that I am going to need that atmosphere to be there when I do drop in more than ever in the coming weeks. This blog isn't just for your benefit, you know, it's my local too.
Some days I will just be watching and listening, some days I will want to write, I really don't know. I haven't a clue what I shall write about, whatever is on my mind I guess. If I seem more crabby than usual, you know why. If I shoot first and don't bother taking a prisoner, you know why. If I seem to be in a remarkably un-Christian frame of mind at times, then don't bother telling me 'I thought you were supposed to be a good Quaker' – I know that, and I might just kick you since I don't have a cat. I've already written to my brother and told him what a totally spineless useless hypocritical twat he is – God knows why I never summoned up the courage before, I've thought it for years.
On the other hand, you've all been good friends, and great company, and I want to see you here – even if you do nick all the pork scratchings. If any of you feel moved to amuse or entertain, please do; Sad and Matt both have full time real lives and can't always write to order – e-mail them, it's on the contact page.
Now Ms Smudd is booked to come over here for a week on the 18th august, which is only six weeks away, so I've got a lot to do in that time. We've both been looking forward to it for some months, and we, I, intend to have a ball. So I have a dead-line. Fighting fit by August 18th. I've never lost a fight yet, and I've been picking them all my life.
Now don't insult a Raccoon by offering maudlin sympathy – jokes, positive variety, or you get a bullet through the head….end of conversation.
What you get over the next few weeks by way of posts, is, well, what you get. Pour your own drinks too. This pub's in survival mode.
July 2, 2011 at 09:05




June 30, 2011 at 16:21







June 29, 2011 at 12:59




June 28, 2011 at 18:16




June 28, 2011 at 15:00







June 28, 2011 at 14:43







June 28, 2011 at 13:09




June 28, 2011 at 00:47







June 27, 2011 at 14:51










June 27, 2011 at 16:40










June 28, 2011 at 09:39







June 27, 2011 at 10:00







June 26, 2011 at 19:10




June 26, 2011 at 18:36




June 26, 2011 at 13:07







June 25, 2011 at 21:29




June 25, 2011 at 18:18







June 25, 2011 at 13:12







June 25, 2011 at 12:50




June 25, 2011 at 09:20




June 25, 2011 at 09:08









June 25, 2011 at 00:00




June 24, 2011 at 23:42




June 24, 2011 at 23:41




June 24, 2011 at 23:02







June 24, 2011 at 22:33







June 25, 2011 at 21:31




June 24, 2011 at 21:38




June 24, 2011 at 21:03




June 24, 2011 at 21:01




June 24, 2011 at 20:42




June 24, 2011 at 20:40




June 24, 2011 at 20:21




June 24, 2011 at 20:12




June 24, 2011 at 19:33







June 24, 2011 at 19:31







June 24, 2011 at 19:22







June 24, 2011 at 19:06




June 24, 2011 at 19:01




June 24, 2011 at 18:51




June 24, 2011 at 18:21







June 24, 2011 at 18:10




June 24, 2011 at 18:01







June 24, 2011 at 17:49