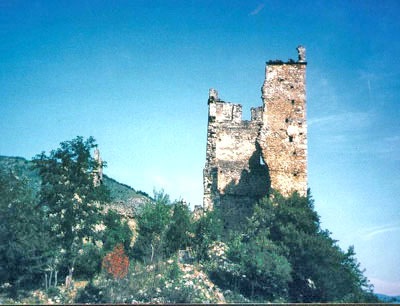 Life as the Maire of a small French commune can be onerous. You are a self contained one-man social services department, with responsibility for the welfare of all the inhabitants. An adult literacy department, with responsibility for letter writing and communicating with Paris in the event that an inhabitant doesn't feel like doing it himself. The local 'vicar' with responsibility for marrying anyone who asks you. Maintaining the Births, Deaths and Marriages register. Making sure that every inhabitant has access to fresh bread at the approved price – witness the panic if the local boulanger threatens to leave town….there is no end to your duties, and with each duty comes a mountain of paperwork; French bureaucracy is world class.
So you can imagine the tail spin that M. Delord, presently Maire of Bugarach, devolved into when told to expect the imminent arrival of several thousand half cocked Americans who were planning to drop dead within the boundaries of his commune – the paperwork alone would stretch from here to Armageddon. It was a mighty impressive tail spin. He did the only thing he could under the circumstances, something which is anathema to any small town Maire – he appealed to Paris for help.
The government in Paris sent down a box of cctv cameras, to monitor the entrance to the village – at least M. Delord would have a little warning!
John-Pierre Delord is used to half cocked Americans. His village has been plagued with them for years. Others Maires worry about termites, or lead paint being discovered in the top rafter of their small church, not John-Pierre; his village is overrun with Fortean Times reading Americans. Far more dangerous than termites.
Jules Verne set them off. Under the Château Miglos, is a vast underground cavern, with many tunnels leading from it. Scarcely surprising, for Château Miglos is built on top of a massive limestone deposit. However, Verne was to refer to this network of paths and caves as the basis for one of his novels of the underground world, where alien civilisations lived hidden from the view of mankind.
This mythology was in turn picked up by many different authors, and a researcher called Daniel Bettex. Bettex was a security guard at Geneva airport, who in the late 60s, turned up in Bugarach looking to find these mysterious caverns. He became convinced that the Arc of the Covenant was hidden in the limestone chambers. No one really knows why, because he most inconveniently (to the Maire, if not himself) dropped dead in the garden of one of the villagers.
Cue, lots of rumours. He HAD discovered the Ark of the Covenant, he must have done, he'd been killed to silence him – wasn't General Moshe Dayan in communication with him? – a definite indicator if one was needed! Hadn't President Mitterrand's plane once circled the Château? Signed, sealed, and delivered then……
The first of the Americans was on a plane before you could say Dan Brown; oh, sorry, it was Dan Brown. A good capitalist American who knows how to turn a few coincidences into a tump of money. Château Miglos was woven into some more mythology.
Since those early days, when the 200 inhabitants blessed the good fortune of a few more entrance fees to inspect the Château, which did wonders for their Tax Foncierre, they have had cause to reflect. The few houses which have come up for sale have been bought by enterprising Americans, keen to capitalise on their countrymen's desire to lap up French life without, er, actually encountering anything too French.
Some of the visitors have been a tad 'peculiar' to French rural minds. Some of them walk round naked swinging a golden ball and a golden ring on a silken thread…..they march up and down the nearby mountain with their arms crossed in the air, some even paint themselves blue.
It was when a truckload of such visitors turned up in Bugarach with "Collective Suicide – Bugarach 2012" painted on the doors of their vans that M. Delord really panicked.
He did some research on that new fangled Internet, and discovered that there were web sites in America selling tickets to come to Bugarach, that thousands of people believe that the end of the world will come on December 21, 2012 when the Mayan calendar supposedly comes to a close – and that only those in Bugarach will be saved. They believe that they will be spirited away by the aliens which they are sure live under the Château in the underground caverns.
The 'collective suicide' group are hedging their bet. They believe that if the aliens don't appear, then the growing throng of Americans gathering – or planning to – in Bugarach, must commit suicide.
Quite how the Parisian Government's gift of cctv is supposed to help M. Delord deal with this catastrophe is a mystery; if Armageddon comes – who will be left to monitor the cctv? If it doesn't, who is going to help him dispose of the bodies of several thousand Fortean Times reading Americans?
"If it happens as in Mr. Spielberg's 'Close Encounters of the Third Kind,' " Mr. Delord said, "it would be necessary to call in the army."
Assuming there is an army left to call in.
The worst of all worlds for M. Delord would be that Armageddon does come, the rest of the world is destroyed, the Americans spirited away by the aliens, and he is left to explain to a silent, non-existent, Parisian government why none of his visitors filled in their Carte de Sejour.
It's the stuff of nightmares for a small village Mairie.