Obama – That Speech in Full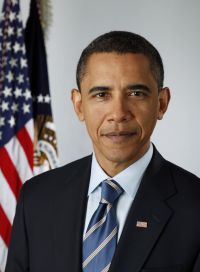 As noted by Randy Hack, political correspondent
Hello.
My name is Barak Obama.
I look a bit like Morgan Freeman. And I sound like him too.
Especially in The Shawshank Redemption. Which is quite a good film.
There is always hope!
Mozart is uplifting!
But I am not him.
And I am not Oprah Winfrey either. In case you were wondering.
My name is Barack.
I am President of the United States of America.
That's really cool. I am really cool.
Yesterday I was Irish. Today I like you English people who live in this place called Britain. It's cool.
I hope you like me too.
I have a very Big Car.
I can tell jokes. Have you heard the one about Churchill, The Queen and Mother Theresa? [Winning smile]
Unlike Dave. Dave can't do jokes. Dave doesn't have the timing. The barbeque "joke" was just tumbleweed time. Totally, man.
Just saying, Dave.
I like Dave. Dave is my friend. I want him to be my friend too.
Will you all be my friends? That would be nice. We can all be friends. That would be…nice.
I can speak very….quietly…
…and then VERY LOUD!
I like you. I like the Queen of you English people here in Britain. She's cool. My wife likes her shiny hats. She wants one.
These are serious days.
The world is very big. There are lots of people in it.
Many of them are not Americans or English. This could be a problem. Some are even Chinese.
It's worrying.
We should all be nice. It's good to be nice.
It's nice to be good.
We should do good things and love each other.
All you need is love.
Love, love, love.
And tanks, because sometimes people are bad.
We're getting the hell out of Afghanistan now we have topped Bin Laden and realised we have got nowhere in the last 10 year, by the way.
We have a strong alliance. One of the strongest in the history of the world.
Dave wants to me to nuke Gaddafi and send in the Marines. Dave can go whistle for that one.
It's your back yard, Europe. Just sort it. Got it? It's election time soon and we aren't paying for it in blood OR money.
Dave is still my friend. I love him.
But he has no planes or boats or troops anymore.
We are all broke.
It would be good to be rich.
We have no money left, actually. Bummer, really.
My granddad was a cook in your army.
That line always goes down well with guilt wracked Liberals.
[applause]
See!
But now I am President I and have a Big Car. And you don't have much of an army any more. Which, in terms of the ruthless pragmatism which governs American foreign policy..
..is slightly…
problematical. [furrowed brow]
But I love you all, and want you to love me! [Big smiles]
I love all you English people in this ancient land of Britain.
You have nice trumpets and palaces!
But sadly no defence budget.
I am told that in Australia there is an animal called a duck billed platitude.
Magna Carta! Democracy! Freedom! Human rights! These are values!
Our policies must be ethical and even handed!
We want Arabs to share freedom!
But we don't mention Syria, or Saudi Arabia.
EVER!
I have to go home now. My car is ready and my wife will give me dog's abuse if I am late for the plane. She wants to catch the latest episode of House.
I love you all.
Goodbye
Randy Hack