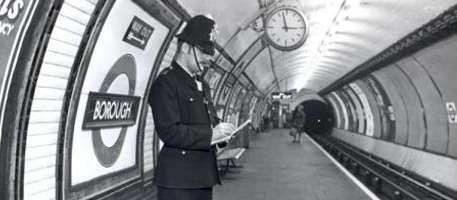 There are 10,000 miles of railway track and around 2,500 railway stations in Britain. Not many people know that – except the railway buffs, and the British Transport Police. For despite their all encompassing name, their beat is solely those miles of iron tracks and the 2,500 buildings associated with them, together with a rag bag of Eurostar, the Croydon tram link, the underground, and the Docklands Light Railway. Not bus stations, or garages, or motorway miles – just the bits of transport that run on iron tracks.
There is nothing dishonourable about being a 'British Transport Policeman' – someone has to do it, but it is hardly the glamour end of policing, and unlikely to attract the cream of the crop when it comes to potential policemen.
"You go home with a real buzz if you have been able to help someone; take the case of the elderly gentleman I had who could not remember where he was staying. After some time I found his hotel key, found out where it was and we took him back there. It turned out that his family were desperately worried about him and were very grateful for our help. It was very rewarding to be able to help in a situation like this."
All very fulfilling and worthwhile, but hardly cutting edge policing.
The British Transport Police recruitment web site gives some hints about the recruitment process:
'If, you are asked to provide character references […]..This is usually only required when you do not have employment references'.
Presumably if you have an unbroken record of two years stacking shelves in Poundsavers, you can miss out this requirement?
You will be vetted to 'BC' level, which as the acronym implies is 'Basic Check' level. A Basic Check or BC (now called BPSS by the Defence Vetting Agency – Baseline Personnel Security Standard) is a minimum standard of checks required which recently also includes a CRB disclosure check but interestingly BPSS, is not in itself a national security clearance.
What does a Baseline Personnel Security Standard check involve?
A BPSS involves a check of identity documents and employment/education referees.
Having grown up in the Britain of Dixon of Dock Green, and the cuddly image of policemen as walking talking wristwatches, I find it alarming that any section of the police force should be 'routinely armed' with semi-automatic guns, without widespread debate.
That it should be the British Transport Police of all divisions, defies belief.
Apparently the Home Secretary has 'agreed' with the Chief Constable of the British Transport Police that henceforth those charged with ensuring you take your feet off the seats, and remove your chewing gum from under the table, will be doing so from behind the other end of a semi-automatic Heckler and Koch MP5.
Specialist firearms officers on call where needed are one thing, routinely arming the Transport Police is another.
Jump over the ticket barrier at your own risk……..
Discuss.



June 28, 2011 at 13:32




May 26, 2011 at 16:28




May 25, 2011 at 09:58







May 25, 2011 at 18:09




May 25, 2011 at 01:55




May 24, 2011 at 23:58







May 24, 2011 at 22:29







May 24, 2011 at 21:39







May 24, 2011 at 20:29




May 24, 2011 at 17:24




May 24, 2011 at 16:42