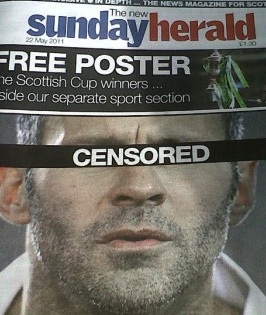 The Scottish Herald appears to my southern eyes to be a strong supporter of Alex Salmond and thus his desire for independence from the UK. Scottish readers are free to disagree with me on this point.
Is it any accident that it was the Scottish Herald who emblazoned their front page with a barely disguised picture of the man known as the Hugh Bonneville of the footballing world?
The practitioners behind the current crop of privacy injunctions have an interesting back story.
Both Keith Schilling and Robin Shaw were nurtured at the knee of the legendary Oscar Beuselink who rescued the firm of Wright Webb and Syrett from obscurity and turned it into the most media savvy law firm of its day.
Schilling emerged from this apprenticeship as an arch advocate of privacy for media clients except in exceptional circumstances – Shaw emerged as chief defender of Ian Hislop and the right of Private Eye in particular to print whatever it pleased. A not inconsiderable testament to Beuselink's ability to demonstrate both sides of an argument!
Beuselink was a showman and self publicist as much as a lawyer and nobody would have enjoyed being centre stage as Westminster and Scotland fought out the merits of unification more than he.
Scotland had its own independent judicial system; however, Derry Irvine's decision to bring in a Human Rights Act 1998 which applied to all of the UK had the effect of binding Scottish courts to decisions made by crusty old judges down in London.
Mssrs Schillings & Co' frequent excursions to the London High Court to obtain 'privacy' injunctions, which would not be valid in Scotland, were it not for the fact that they are issued under the Human Rights Act, cannot have pleased those pushing for more, not less, independence from Westminster.
I wonder whether the media organs pressing for the right to publicise the sexual habits of the most searched for names on the Internet to keep their 'on-line' presence healthy had intended to set a political hare running as well?
Will the Scottish judges determine future independence by declining to hold the Scottish Herald in contempt of court for their actions? Will they uphold the decision of their Southern counterparts?
Who would have thought that the inability of young Manchester lads to keep their d**k in their trousers might eventually resolve the thorny problem of Scottish independence? Who would have thought that the young son of a Belgian sea-cook, not even eligible to get into grammar school, would have trained the lawyer who started all this?
– And they say the UK is a land ruled by toffs and aristocracy? Huh!
UPDATE: Sometimes things move fast in politics – MP John Hemmings has named 'CTB' as Ryan Giggs if you didn't know that already.
May 26, 2011 at 20:07




May 25, 2011 at 21:28







May 25, 2011 at 21:34







May 24, 2011 at 10:17




May 24, 2011 at 08:44







May 24, 2011 at 07:57









May 24, 2011 at 07:31