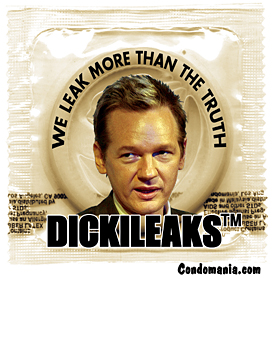 Sitting in on one of those interminable Social Services conferences, the question of the 'subject's' past mental health came up. "No, he'd never attempted suicide before, but he had been a counsellor for the Samaritans for many years", it was said with a knowing nod. "Not another one" came the response from across the table.
It was the first time I'd come across the phenomena of 'hiding in plain view'; the curiously frequent manner in which the depressive seek to counsel others; child abusers sign up to 'care for children'; the larcenously inclined cheerfully become policeman; the judgemental, the censorious, and the control freaks – bill themselves as Libertarians.
"Don't look at me, look at them" they cry – as they point a disapproving finger in the direction of another miscreant.
Who could have imagined that the King of transparency, of openness; the Guru of free speech, of total divulgence of information; the Scourge of organisations that sought to hide their holdings, the disseminator of other people's secrets – was really a non-disclosure control freak?
Step forward Julian Assange, founder of Wikileaks, who now makes his employees sign a draconian non-disclosure agreement, to ensure that they do not leak any of the leaked information which comes his way, without cost, but which then becomes a valuable commercial asset. An asset that he values at around £12 m, and whose value he is keen to preserve from those who would leak it free of charge.
"You accept and agree that the information disclosed, or to be disclosed to you pursuant to this agreement is, by its nature, valuable proprietary commercial information," the agreement reads, "the misuse or unauthorized disclosure of which would be likely to cause us considerable damage."
So dear Julian is not just worried that staff might personally profit from selling on this information – but that his proprietary interest in this commercial product might be damaged by them, er, leaking it……..
You couldn't make it up. It's worth following the link and seeing exactly how Julian thinks those who leak information should be treated…….