Well All Riiiiight! Yeah!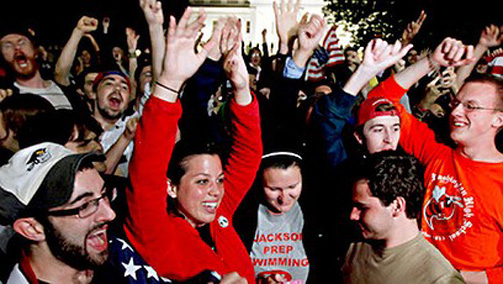 The classic ending to every American movie, the moment when the assembled crowd raises their right fist in a salute and whistles, cheers and stamps their feet yelling 'well, all riiight' is being played out in front of the White House as we speak.
We can turn the telly off now and sleep easy in our beds. King bin-Kong has been slain; the credits are rolling; the token woman and the token American Negro returned to the props cupboard, and we remembered to thank the National Tourist Board of Pakistan for their assistance in making this film.
Drink your cocoa up, tomorrow is a school day and you can frolic on the trains and planes of our great country without worrying about backpacks full of nitro-glycerine lying around – didn't we just sneak into someone else's country and shoot the main man dead – and triumphantly sneak out again with his body so he won't get a decent burial?
I mean, if Pakistan forces had crept into Britain without telling the UK government and shot Obama and sneaked out with his body – the war on terror would have been over, wouldn't it? No one to give orders any more; and all the little Muslims and all the little Christians would have smiled at each other and lived happily ever after.
'Well all riiiiight'!
Keep cheering folks – Part One may have ended when bin-Laden ticked the 'add location' box on his Twitter feed, but the sequel is already in the can. Exploding at a destination near you.
Let's have a rousing chorus of that all American signature tune – 'It's only just begun'.
May 2, 2011 at 14:43







May 2, 2011 at 15:49




May 2, 2011 at 13:35







May 2, 2011 at 14:12










May 2, 2011 at 15:50







May 2, 2011 at 18:38







May 2, 2011 at 13:14







May 2, 2011 at 12:43




May 2, 2011 at 10:57







May 2, 2011 at 11:01







May 2, 2011 at 11:08







May 2, 2011 at 10:09




May 2, 2011 at 09:41




May 2, 2011 at 09:40







May 2, 2011 at 09:29










May 2, 2011 at 11:01




May 2, 2011 at 11:18










May 2, 2011 at 11:22










May 2, 2011 at 14:58




May 2, 2011 at 09:15







May 2, 2011 at 09:15







May 2, 2011 at 09:10







May 2, 2011 at 09:29




May 2, 2011 at 08:47




May 2, 2011 at 08:17