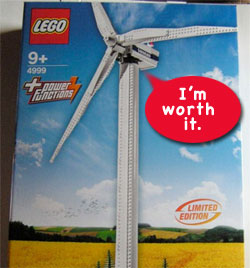 What do you get if you pay the best part of three-quarters of a million pounds to have your own specialised press and public relations department?
If you are a Premier league footballer, probably a rest from the Mother-in-law's only-too-well informed tongue.
If you are a rate payer in the People's Undemocratic Republic of Sandwell – then not a lot. They do their best, poor loves, but are constantly undermined by determined bloggers. (Declaration of interest here – yes, me too!).
Back in February, the Sandwell Press Office put out a press release claiming that the giant wind turbine which they were planning to erect in a local beauty spot would provide electricity to 20,000 homes.
They also said that it would be screened by trees – it's 200' foot high; I'm reliably informed that in the rain forest with above average warmth you can expect trees to grow to this height in a merely 15 years or so, however, Sandwell isn't in the rain forest – yet.
'Noise' from the wind turbine wouldn't be a problem since it would be drowned out by the noise from the M5 which had already been inflicted on residents…
They successfully planted this story in the local newspaper, the Express and Star. Sandwell's financial Director, Steve Eling was reported as saying "There would be a cost to put it up, but it would produce a very significant level of saving for us."
He didn't just pluck this financial prediction off a passing cloud; it was informed by the test run the council had already made. They had erected a windmill in Oldbury and were monitoring its progress.
Enter the determined bloggers. They put in a Freedom of Information request in order to learn how this windmill in Oldbury was progressing and what were the costs involved.
They tracked down the wind turbine involved, and found it had cost the council £5,000. It is expected to repay the cost of installation to its owners in 45 to 125 YEARS. Gasp! This is what you call a long term investment. Still, undaunted, Sandwell had ploughed ahead and installed the Airdolphin. It's only ratepayer's money, not as though they were investing for themselves.
Did it perform as well as expected? Between 500kWh and 1400kWh per year according to the manufacturers?
A difficult question to answer, since it emerged via the FOI that the council had actually invested in no less than two of these carbon reducing beasts – and they had only monitored one of them. The one they had put up in the grounds of a primary school. (The better to indoctrinate young minds….)
The £750 cost (you didn't expect it to be free did you? and they did save the £150 cost of installing one of these….) of monitoring this windmill had produced the startling information that it had produced a stunning 209kWh of electricity in the entire year. Or to put it another way, it would take 40 odd years merely to recoup the cost of someone monitoring it – never mind around 250 years to recoup the cost of installing it!
So, to answer my original question, 'what do you get when you invest £679,200 in four press officers and a support team'?
You get enough hot air planted in your local rag to power a medium sized wind turbine for around 16.2 years, not including the cost of batteries to keep the sails turning……
Back in 2009, Sandwell spent £16,000 on handheld Blackberries for 64 of their councillors – anyone monitoring the amount of hot air being generated into those?
h/t Joe Public.
May 1, 2011 at 17:19




May 1, 2011 at 16:34




May 1, 2011 at 13:26




May 1, 2011 at 12:30







May 1, 2011 at 12:29







May 1, 2011 at 13:29




May 1, 2011 at 11:43







May 1, 2011 at 14:52










May 1, 2011 at 19:27




May 1, 2011 at 10:40




May 1, 2011 at 10:32







May 1, 2011 at 11:22




May 1, 2011 at 10:28




May 1, 2011 at 10:18




May 1, 2011 at 09:10







May 1, 2011 at 09:02




May 1, 2011 at 08:55