A breath-taking extension of the Hyper-injunction.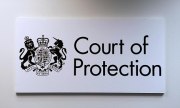 Historically, the Court of Protection 'protected the purse, not the person'.
The Mental Capacity Act of 2005 dramatically extended the remit of the court to include the ability to 'protect the person' as well – from October 2007 they were able to make decisions regarding, for instance, where a person lived, what medical treatment they received, or rather, didn't receive.
Last Friday afternoon, they dramatically extended their powers to include the immediate family and friends of a person under the Court's protection.
In a case provisionally known only as Re: M, concerning a 53 year old woman who is in a 'minimal' conscious state, rather than a persistent vegetative state, as in previous cases where permission has been sought to withdraw food and water, and whose Mother has applied to the court for permission to allow her daughter to die, they went much further than the usual secrecy demanded of cases in this most secret of courts.
Rather than contenting themselves with the usual demand that no party may be named or identified, they have issued an injunction which prevents any news organisation from coming within 160′ of any of a total of 65 different witnesses and 4 different addresses connected with the case, or from communicating with M or with any of the 65 people listed, "whether orally in person, or by telephoning, text message, email or other means".
It is the most draconian injunction so far issued by any court.
It now means that the understandable secrecy which is attached to court proceedings regarding vulnerable people who are in no position to give informed consent to publicity – has been extended to 65 members of the public, and journalists risk imprisonment if they breach the injunction.
It is a quite breathtaking extension of their remit.
May 28, 2011 at 15:46




May 13, 2011 at 16:26







April 24, 2011 at 16:13







April 20, 2011 at 16:11




April 20, 2011 at 12:28




April 20, 2011 at 10:19










April 20, 2011 at 10:23







April 20, 2011 at 12:23




April 20, 2011 at 21:00










April 20, 2011 at 08:20







April 20, 2011 at 06:54







April 20, 2011 at 06:17




April 20, 2011 at 04:05




April 20, 2011 at 00:39




April 19, 2011 at 23:14




April 19, 2011 at 23:13







April 19, 2011 at 22:48







April 19, 2011 at 21:55










April 19, 2011 at 21:52







April 19, 2011 at 21:38







April 19, 2011 at 21:38












April 19, 2011 at 21:16