No justice for Amy Houston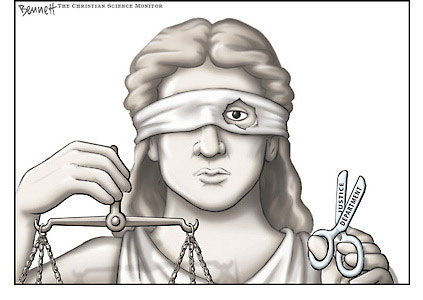 No Justice for Amy Houston: A Criminal's Human Rights Protected
"BRITAIN has kings, but they are tyrants; she has judges, but unrighteous ones…"
These are the words of St Gildas, a monk and chronicler, writing nearly 1,500 years ago, sometime around 550AD. Gildas wrote a political tract because he believed that the political classes of the day were both morally corrupt and self serving, and that in their weakness and lack of resolution they were surrendering the country to the barbarians who would snuff out Romano-British civilization. Barbarians that they had actually invited into the country in the first place to act as mercenaries. Gildas was right, and the "Dark Ages" were beginning. I borrowed his name in 2010 for the purposes of blogging in part because I felt that the sentiments he expressed were all too relevant to the present day.
Aso Mohammed Ibrahim came to this country in 2001 from Iraq, seeking asylum. Seeking then the protection of the rule of law and the tolerance of this country's people. His application for Asylum failed, as did his appeal, but the Supine State did nothing to remove him.
By 2003 he was already banned from driving for 9 months, having been convicted of driving without a licence and without insurance. He was directly flouting that ban when he ran down 12 year old Amy Houston near her home in Darwen, Lancashire, leaving her still conscious but dying beneath his Rover car as he ran away from the scene.
Pausing there, since I have not been able to find any record of Ibrahim having gainful employment, where did the money for the car come from? Why, Ibrahim, do you claim that you can enjoy the peace and security of the protection of the law which this country offers you when you spit in its face by wilfully ignoring it? Why do you think it is right to leave a child sobbing and dying under the weight of your car and not try to help?
Ultimately, Amy's father Paul had to make the decision to switch off her life support machine. Ibrahim was sentenced to a pitiful four months in jail (of which he served two), before being released to pursue his criminal career, which he did, racking up more driving convictions, and cautions for harassment, burglary and theft.
Eventually even the Supine State moved into gear and in 2008, six years after his application for asylum had failed, five years after this criminal left a little girl dying beneath the wheels of a car he had been banned from driving, the Border Agency began proceedings to deport Ibrahim on the grounds of "persistent criminality."
But in the meantime, and with grim inevitability, the criminal Ibrahim had sired two children.
And thus it came to pass that despite Ibrahim's "abhorrent" behaviour, the Immigration Tribunal ruled that his and his children's right to a family life under Article 8 of the European Convention on Human Rights meant that he could not now be deported.
Yesterday the Court of Appeal confirmed that decision.
Ibrahim is a serial criminal who repays the land from which he has claimed succour by floating its laws, abusing its citizens, and in so doing caused the death of an innocent child. He wasn't even man enough or decent enough to try help her. He escaped a lengthy prison sentence because in legal terms it was "an accident", but it seems to me that it is no accident if you run someone down when you have no driving licence and you have been banned from driving. It was the direct consequence of his deliberate unlawful action. His "right" and the "rights" of the children he has spawned to family life are not absolute. A murderer – and I have no qualms in describing Ibrahim as such in moral if not legal terms – has no right to be protected from life in prison when he kills.
As it happens, I do not want that for Ibrahim. Why should the taxpayer spend hundreds of thousands of pounds in locking up, guarding, feeding, clothing and indeed protecting this vile excuse for a man? No, he should be returned to the cess pit from whence he crawled in the first place.
His rights to see his children and their rights to see him? I am afraid as harsh as it may seem I do not care. Is the law of the land to be trampled and abused by this alien criminal without sanction?
As my namesake might have said: Woe to the land where the law, and the judges, takes the side of those who abuse it!
In this case the law is not an ass. It is a disgrace, and it betrays and insults the people it purports to protect. It is a world turned upside down. There are too many Judges in this country who are hidebound by process, lacking understanding, devoid of moral purpose and in thrall to what in short hand I will call Political Correctness. Heedless of the good and the weak, they defend the barbarian and the wolf.
What is that distant sound I hear? I believe it is my illustrious namesake, spinning in his tomb…
Gildas the Monk 2011
Randy Hack
April 9, 2011 at 14:35

JuliaM
April 9, 2011 at 15:43

PT
April 9, 2011 at 14:46

Gildas theMonk
April 9, 2011 at 16:54

Jeremy Poynton
April 9, 2011 at 14:55

JuliaM
April 9, 2011 at 15:42

woodsy42
April 9, 2011 at 15:58

Livewire
April 9, 2011 at 16:27

Ian R Thorpe
April 9, 2011 at 18:20

Gildas theMonk
April 9, 2011 at 18:28

Cascadian
April 9, 2011 at 19:05

Gildas theMonk
April 9, 2011 at 19:07

Ancient and Tattered Airman
April 9, 2011 at 20:15

electro-kevin
April 9, 2011 at 21:14

electro-kevin
April 9, 2011 at 21:15

cornishstu
April 9, 2011 at 21:47

Zaphod
April 9, 2011 at 23:48

Cascadian
April 10, 2011 at 02:34

Gentoo
April 10, 2011 at 00:10

Eleanor
April 10, 2011 at 13:05

Zaphod
April 10, 2011 at 22:22

Woman on a Raft
April 10, 2011 at 23:13

Zaphod
April 11, 2011 at 07:16

Woman on a Raft
April 11, 2011 at 10:44

Zaphod
April 11, 2011 at 23:22