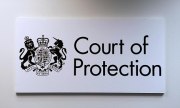 Three cheers for Sir Nicholas Wall the President of the Family Division for his recent judgement in A v A Local Authority and Ors.
The decision is one of those Court of Protection Cases that has been made public and so we can read it on BAILII. Whilst the judge is to be commended, the case reveals in an unintended way the horror and stupidity of the Deprivation Of Liberty Safeguards introduced by the last Labour Government. The DoLS, as they are known, are fast becoming notorious for their wild expense, inefficiency and inhumanity.
This case concerns an elderly man who has been locked up in a secure old peoples' home on the basis that he has dementia. 'A' (for that is all we can know of him) objects to being locked up and insists that he has capacity to decide where to live and, either way, that it is not in his best interests to be detained.
Reading the judgement we learn that 'A' has a relative called 'S'. 'S' was initially appointed to represent 'A' but actually 'S' believes that 'A' is better off locked up. So, because 'S' was not helping 'A' appeal he was replaced, apparently by an independent mental capacity advocate (IMCA) to help 'A' exercise his right of appeal.
The Official Solicitor has been appointed and instructed Counsel. A court case has been held. At a hearing of the Court of Protection on 29th March 2011 the judge quite rightly agreed with the Official Solicitor that an independent assessment of both the mental capacity of 'A' and his best interests should occur. If you like, he should be granted a second opinion. The case was reported, presumably because Sir Wall intended to set a precedent that those detained under the safeguards should be allowed an independent assessment.
So three cheers to the judge for defending our liberties. The judge – at least in this case – is not the problem.
Let us rewind a little and look at that again. This man, 'A' is detained in a care home. He has received help from a family member, an independent advocate, the Official Solicitor and Counsel. His case has come before a judge. And now, NOW they are finally getting a second opinion on whether he has the mental capacity to make his own decision as to where he lives?
The whole hearing was solely to decide that one issue – whether a man locked away by the state on grounds of his health would be allowed a second medical opinion. Astute observers may have realised that this process is a tad expensive and also none too rapid. The problem lies in the mind-numbing stupidity of the laws Labour drafted to deal with this issue.
What sort of moron designs a procedure where a second medical opinion is only sought *after* a court case? Fabulous amounts of tax payers cash have been spent just to ask another doctor to look at this person's mental health.
All but the most brain dead of my readers will probably have realised that were a second opinion available *before* the Court proceedings began a great deal of expense and trouble might have been avoided. Sadly, no such right exists in the legislation. Second opinions arise from discretion of a local authority or NHS body or from an order of the Court of Protection.
A casual estimate is that this bizarre and heinously poorly drafted law caused the expenditure of around £100,000 just to decide it might be a good idea to double check the medical facts in this one case about a single elderly man.
The Deprivation of Liberty Safeguards arise from the so called Bournewood case. In that case a mentally disabled man, unable to speak, was locked up in a mental hospital. The European Court of Human Rights found that having people locked up without due process was a bad thing and so the British Parliament was required to do something about it.
The problem was not the ruling. Locking people up secretly and without any procedure is a bad thing and on this matter I agree with the European Court. The problem was that the Labour Government appeared to respond with what can best be described as childish resentment at being told not to lock people up without trial or due process. The Labour Government had of course opposed the claimant in the Bournewood case not least on grounds of cost (and they say we Conservatives know the price of everything and the value of nothing …)
Having lost the case the civil service went away into a darkened room with some Labour apparatchiks and came back with the DoLS – a set of so called 'Safeguards' so poorly drafted that judges have had to work very hard to 'interpret' them into usable law.
See for example the case ' GJ v The Foundation Trust & Anor [2009]' Again the judge (Mr Justice Charles) is to be commended. Indeed at one point the judge has actually inserted a little chart/table thing to help explain the law to the unfortunate professionals who have to implement it. If a High Court Judge with a stellar academic record and a history of achievement as a lawyer finds this heavy weather, what chance does someone with a learning disability have?
In this era of austerity, why is the British Government spending fabulous amounts of taxpayers money on this system? The tragedy is that Great Britain already has a system for dealing with similar issues. Under the Mental Health Act, which was passed in 1983 by Conservatives in Margaret Thatcher's Government, disputes are dealt with under a cheap tribunal system where people who are detained may appear in person or be represented by a Solicitor. The Act is detailed, specific and relatively easily understood.
The coalition government could do far worse than once again take a leaf out of Margaret Thatcher's book and reform the DoLS.
Sam Smith
*Sam Smith is a former Labour Councillor and member of Labour Party Staff.
He is now a member of the Conservative Party and an equalities campaigner with a specific interest in civil rights law.