Gildas and the Big Fish Part II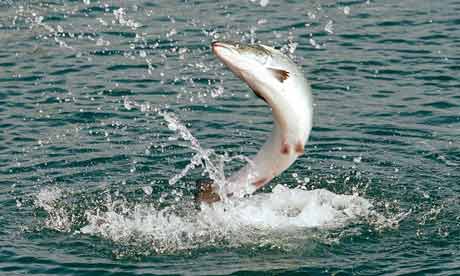 On the first day the rods are assembled in the hotel car park before breakfast. They will not be taken apart until the end of the trip; that would involve too much faffing about. Instead at night they are stored in racks in the long shed and drying room behind the hotel. They are transported to and from the river on special racks which magnetically clip on to a car. The rods themselves are wonders of technology; long but incredibly light and strong. In the old days they were made of bamboo and such. Now they are made of carbon fibre, graphite and other space age composites. Fittings are made of tungsten, even titanium. Wingnut and Mr Ed both have state of the art kit from the most famous manufacturers. Rod and reel together might will set you back well over £1,000, and they have various spares and alternatives. However, I have now acquired an excellent rod from a new British manufacturer at very reasonable price.
The morning ritual starts with a hangover, followed by a cigarette outside with Mr Ed who invariably observes that the weather "looks fishy" and that "the river is stuffed with fish." Then follows breakfast. A traditional "full Scottish breakfast" is available. which includes strange large, square sausages. I avoid this and stick to poached eggs. Wingnut will be either (a) very grumpy and impossible because he has not caught anything lately, or (b) uncommonly smug because he caught lots of fish the day before.
We then load the rods and pile into Wingnut's Range Rover, a car so unfeasibly large I feel one could hold a church service in it. The boot is stuffed with highly organized boxes of fishing equipment and hi tech accessories from every sort of fly tying material (fox fur, rabbit pelts, tinsel, beads, caribou fur, feathers of all kinds) to fly tying vices, tape, and goodness know what else. And picnic hampers of food and booze.
We drive to the river and suit up. This involves struggling into heavy neoprene and rubber chest high body suits for wading, and fitting a water proof jacket over the top with its many pockets full of spare hooks, flies, cutters, chocolate and cigarettes. Hats are usually added both for protection from the wind and cold, and from a misplaced hook. Similarly special polarised sun glasses are de rigueur. They take any glare off the water and allow you to see better, but it is not just the sun that is the issue. It is not a good idea to fish without them whatever the weather, because the risk of a hook in the eye does not bear thinking about. They act as safety glasses.
Finally you add a wading stick, which is exactly what it says. Without one wading in a near freezing river is positively dangerous. You need it both to check that you are not about to plunge into a great hole, and for balance because the power of the water, even at what might be just around your knees, is incredible. In deeper water if you take a tumble and your suit fills with water before you can recover yourself, you won't come out till Berwick, and that's 60 miles.
Jack the Ghillie arrives. He is, surprisingly for a ghillie, upbeat and polite as well as knowledgeable about the river. As we faff about getting our stuff on and falling over he opines that the prospects are great and that there are fishing "moving" which seems to be good. Although what else they would be doing is a mystery to me. Sitting down, maybe?
Finally, dressed like a cross between the Michelin man and the guys in Reservoir Dogs, we amble along to the fishing hut. This is a good place. A humble but robust wooden hut by the river, with everything you need to be a happy. Namely: a wood stove, a gas ring for cooking, a kettle, some paper cups, a table, battered armchairs and some magazine about fishing. Coffee then takes about another half hour and types of fly are discussed. "Mystic Jack" offers suggestions as to the type and colour of fly that has proved successful lately and that will produce results today. This is, of course, about as scientific as guessing the Lottery numbers, and has largely the same success rate in my case.
Eventually we split up and march off to different parts of the beat to begin the real business of the day.
At lunchtime we reconvene at the hut for lunch. This will be pot noodle, cuppa- soups, cheese, crisps and pepperamis, with tea or coffee and for my companions alcohol (decent red or Stella) in varying amounts depending upon their (a) elation, (b) depression, or (c) in the case of Wingnut after a couple of bad days fishing, outright psychosis. I never drink during the day but will "assess tactics" and "read the river" whilst sharing a cigarette with Mister Ed. Invariably, at this time a large number of salmon will cheerily leap and splash about in the river right in front of us. If they had fingers instead of fins then they'd be showing us two in a time honoured gesture of contempt. Also invariably, I am cold and have caught nothing and trudge off after lunch with a certain amount of weariness, anticipating an afternoon of cack handed casting and no fish.
But this has just changed. After a blank Thursday, it is the "Witching Hour" on Friday. As the sun dips and the light begins to fade, roughly around three thirty, the salmon become noticeably more active, moving higher in the water and becoming more aggressive. Many fish are caught at this time. At exactly four o'clock, with the watery sunset etched gold on the water, something has taken my fly and I have lifted hard into whatever it is and set the hook.
Thump! Everything stops still. The line goes tight, the rod arches over, and I feel like I have a bag of cement on the end of the line. Have I hooked the bottom? No, there is movement. A moment of assessment takes place at both ends of the line.
Then all hell breaks loose as the "bag of cement" bores off deep and fast across the river. The drag – the adjustable tension effect on the reel – is screaming its happy song and the rod is at a severe angle. 20, 30, 40 yards of line is gone in seconds as the fish swims across and dives. A number of profanities escape my lips. Adjustments are made to the drag and I back clumsily up the bank to find a firmer footing. After the initial shock, I am OK now.
I have not carried a net because I did not expect to catch anything. Fortunately, and completely by chance, I can see Jack the Ghillie on a bend of the river about 250 yards away and he carries one. I yell at him in the time honoured phrase
"FISH! ON!"
Jack hears my shout and sees the vicious angle of the rod. He's on his way at a run. Good man.
After the first few moments of the encounter, I can tell this fish is very strong. It is boring deep and running backwards and forwards across the river. This is a particular problem when it runs back towards me because I need to keep a reasonable tension on the line, so I have to wind in fast and back up along the bank quickly to keep up.
Suddenly the fish dives deep, heaving the rod tip over at an alarming angle, then I seem to have lost contact. Before I can even curse, I find out why. Out of the water blasts something about the size and shape of two full sized cricket bats stuck together, like a Cruise Missile launching from a submarine, silhouetted black in the evening light against the glittering water as it "tail walks." It thrashes across the surface of the river and then plummets with a great "kerchooooomp" back into the water.
I express my surprise and awe in suitably colloquial Anglo Saxon terms.
The game is really on now. The fish has adopted new tactics. It wants to go downstream, through the Birkie pool and into the rapids which lurk there about 60 yards downstream. There is a hill and a small forest there which you have to walk around, and unless I decide to brave wading through the rapids I will not be able to follow and I will certainly lose it. Wade the rapids? Sod that for a lark.
After recent rain the river is high and really pushing through, and the fish is using it to its advantage, aligning its body with the current and dragging me down stream. I can also feel the savage shaking of its head as it worries at the hooks.
The battle has been waged for a few of minutes when Jack the Ghillie arrives. As I exchange some words with him the Cruise Missile emerges from the depths once more, and then again, before boring off across the stream.
"Ach, bloody hell," says Jack, stating the Completely Bleeding Obvious, "that's a good fish."
The fight carries on. After my day of crap casting my arms are tired, and my right forearm is beginning to feel the strain. I must try to apply strong pressure to the side to stop the fish moving downstream to the rapids, but I cannot apply too much in case the hook has a fragile hold and pulls free. At times the rod is adopting the clichéd horse shoe shape in any event.
Jack the Ghillie thinks I am overdoing it as it is, but I also have an agenda. I have hooked and lost a big salmon before, and experience tells me that sooner or later the vigorous shaking of the head will free the hook. It is a race against time, and the impending rapids. I can't afford to hang around.
But frankly, I think I am beginning to lose the battle. The fish is not tiring as it should and is edging me and itself remorselessly downstream towards the bottom of pool where I cannot follow.
The fight goes on, and crazily such is the power of the fish that at some stages I feel it may pull me in and drown me. Something else happened too, which I have never encountered before. I began to sense the personality of this fish. In the powerful runs and tenacious shaking I feel a sense of anger, a kind of ferocity which only a truly wild killer has, and something else. Courage! After the fight has been going on for about 10 minutes I turn to Jack.
"You know" I say, "If I lose this fish I won't mind. It's so brave."
Jack looks aghast. But I mean it. Weirdly and inexplicably I can sense it.
The fight goes on. It is has been maybe fifteen minutes now. About twenty yards from the beginning of the rapids and near the end of accessible bank I seemed to have halted the fish. Finally it seems to be tiring. As I bring the fish towards the bank Jack the Ghillie approaches the water with his big net and wafts ineffectually at it. It is too soon. The fish spooks and sets off on a whole new run and then buries itself in some sort of culvert under the near bank under our feet.
"F*******g hell Jack, you spanner!" I declare, I think quite reasonably in the circumstances.
Chaos ensues. Jack, to his credit, has untangled the line from some roots in the bank, and the fish is still on. I begin to bring it in to the bank again. Jack swishes at it with the net again, doing his Andy Murray impression. He makes contact with the net, but once again it is too early, and the fish surges.
And then the line goes slack. It is gone.
Silence.
The mystery is solved when I reel in the fly. In the force of the battle the only hook of the treble which had been in the fish's jaw has been bent straight out of shape, allowing it to pull free. Ah well.
Jack confirms that up close he could see it was a big "tartan" hen fish, maybe 18lbs in weight, and full of eggs. Recharged by a long rest in the river it was at the peak of its powers.
I wish it well. True to my word I am pleased it got away. If you play a fish like that too long you risk it becoming completely exhausted and dying. There is also a risk that unless carefully handled it and its precious cargo of eggs can be injured. So better that it went on its way, never lifted from the water, and unharmed.
So, my name did not go in the catch records back at the hotel, but I didn't mind. I returned tired but quite content. I replaced my fez, ordered a glass of red, an meditated on the incredible ferocity and courage of a wild beast. Bon voyage, madam. I wished her well.
Gildas the Monk
April 7, 2011 at 08:48










April 7, 2011 at 08:59







April 7, 2011 at 13:51




April 7, 2011 at 01:11












April 6, 2011 at 20:48




April 6, 2011 at 18:42










April 7, 2011 at 09:01







April 6, 2011 at 17:25




April 6, 2011 at 14:35










April 6, 2011 at 14:47







April 6, 2011 at 13:39