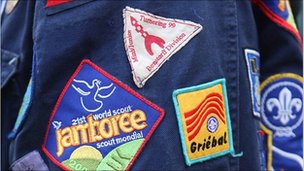 You couldn't make it up.
'Scouts roll out national sex education programme'.
This years most desirable 'prowess badge' to have on your scouts uniform, is one for teaching the younger kids how to have sex.
Safe dib, dib, dib.
Quoting Health Protection Agency figures, they said the UK had the highest rate of sexually transmitted infections (STIs) and teenage pregnancies in Europe.
These "worrying statistics" were most likely to be reversed if young people were given clear information about safe sex, it said.
They don't learn about this sort of thing at school (???) so senior scouts are preparing to take the young lads in hand, and….I canna go on.
Matt Mills, a Scout Leader from Essex, who was involved in the development of the new material, said it covered "sexuality, STIs and abstinence".
Adventurer and TV personality Bear Grylls, who holds the position of Chief Scout, said the programme was about enabling young people to "make smart decisions" about their relationships.
"We want to help young people become confident, clued up and aware," he said.
April 7, 2011 at 07:48




April 7, 2011 at 00:42




April 6, 2011 at 19:58




April 6, 2011 at 16:23




April 6, 2011 at 14:13









April 6, 2011 at 16:28




April 6, 2011 at 13:44




April 6, 2011 at 12:44




April 6, 2011 at 12:41







April 6, 2011 at 17:41




April 6, 2011 at 12:28