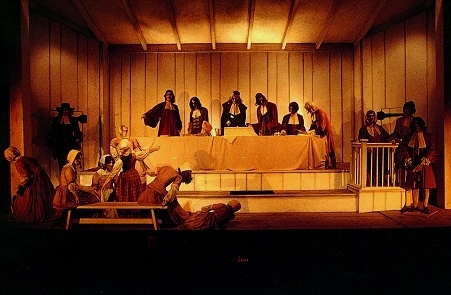 The European desire to bow down respectfully in front of Islamic sensitivity has previously been confined to iconic figures.
Cherie Blair, defending the wearing of the Niqab. Geert Wilders, refused entry to address the British Houses of Parliament; a meagre £50 fine for insulting our servicemen and burning poppies on Armistice Day for Emdadur Choudhury. As Leg-Iron has pointed out yesterday – Pastor Terry Jones burns a copy of the Koran, and Islamists respond by cutting off the heads of some of the UN delegation in Afghanistan. Islamists burn a symbol of our debt to servicemen and women, and we respond with a £50 fine.
I have every sympathy with those who would seek to outlaw racial hatred. I don't happen to believe that the law is the best way to deal with it, but that is another matter. It is wrong to 'hate' someone simply because of an accident of their birth – the place where they were born, or the combination of genes that resulted in the colour of their skin.
Religious beliefs are not an accident of birth. They are a matter of choice that we are free to make and unmake throughout our life. The fact that most fundamentalist Islamists happen to have a different colour of skin to the majority in Europe, and belong to a different race, has resulted in the greatest three-card trick ever foisted upon a population.
Post-Christian Europe now routinely condemns those who object to Islamic pro-Sharia activity as being 'anti-multi-culturalism'. To be anti-fundamental Islam is to be a racist under the new apostasy.
The 'heretics' in the dock on our side of the great divide have so far been prominent figures; Nick Griffin, the BNP leader is routinely denounced and vilified by those great exponents of the new European religion, multi-culturalism, the left wing media. Unfortunately, this now appears to include even our public broadcaster.
It was only a matter of time before the bandwagon of 'anti-heretical speech' moved onto the man or woman in the street.
That the case occurred in Austria, a country routinely lambasted for being 'right-wing' – and hence automatically racist, according to the new multi-cultural religion – possibly accounts for the fact that it has not been reported in England.
Elisabeth Sabaditsch-Wolff, a young Austrian mother, has lived and worked in the Middle East for many years. During the course of an address to a political audience, she mentioned the fact that Mohammed married Aisha when she was 6 years old. To this day, this fact is taken by fundamental Islamists to legitimise something we would consider to represent paedophilia. When Khomeini came to power in Iran, he promptly lowered the age of consent to 9 years old. To mention this was alleged to 'incite hatred', and Miss Sabaditsch-Wolff was prosecuted under Austria's section 283 of their penal code. A code that was added to during the course of the trial.
In court, it was not denied that she was factual when she referred to Mohammed's marriage to Aisha at 6 years old, and 9 at the time of consummation – it was the word paedophilia that was objected to. The judge's reasoning is a masterpiece of legal footwork.
As Mrs. Sabaditsch-Wolff observes, "the judge didn't deny that Mohammed had sex with a nine year old. It is actually now proven in court that Mohammed had sex with a nine year-old." However, she says, "It's just that I am not allowed to say that he was a paedophile." Mrs. Sabaditsch-Wolff is not allowed to, because, in the words of the judge, as she passed sentence, "paedophilia is a sexual preference which solely or mainly is directed towards children. Nevertheless, it does not apply to Mohammad. He was still married to Aisha when she was 18."
Remind me – was it not in Austria that Wolfgang Priklopil snatched Natasha Kampusch from the streets, aged 10 years old, and was still holding her at 18? Will he now be applying to the courts to be protected from anyone using the word 'paedophilia' in connection with his case?Josef Fritzl anyone?
The judge's ruling in this case is very misguided. Had she pointed out that in Mohammed's time, sex with a nine year old was not against the law, and therefore the legal definition of paedophilia was an unfair label, I might have had more sympathy – but to base her argument on the premise that if you continue to commit a crime for long enough, it becomes legitimate, opens up all sorts of possibilities.
Mrs. Sabaditsch-Wolff says she is stunned by the verdict, and determined to take the case to the European Court of Human Rights if necessary.
The court did not find that she had made her comments maliciously: "I am the first Austrian ever to have been convicted of the hate speech charge," she notes, "I was not found guilty under the hate speech charge [paragraph 2, 83, section two]." Instead, the charge of denigration of religious teaching was introduced after the court proceedings were underway, apparently to ensure a guilty verdict. Denigration has a lower burden of proof than hate speech.
Mrs. Sabaditsch-Wolff insists there has never been "any hate speech in [her] seminars," and that no one, based on the evidence, could ever have thought that there had been. The judge agreed, saying, "The language used in the seminars [was] not inciting hatred, but the utterances regarding Mohammed and paedophilia were punishable." Because, it would seem, these were colloquial rather than strictly in accordance with the medical and legal definition of the term.
Mrs. Sabaditsch-Wolff will appeal the verdict to Austria's high court, and, if necessary, take her fight to the European Court of Human Rights. However, with her case having garnering so little attention, she is, she says, "desperately in need of donations." The case has already cost 7,000 Euros, and it will take more to fight the decision.
If she does not appeal successfully, a precedent will have been set by that Austrian court which will apply throughout Europe. Even if you are not 'inciting hatred', you may not make factual statements if they have the effect of 'denigrating religious teaching'.
Call the fundamentalist support for cutting off the hands of thieves, or stoning adulterous women 'barbaric' – and you will be denigrating 'religious teaching'. Mind you, it will stop Yasmin Alibhai-Brown from calling the wearing of the niqab 'a mark that women are evil temptresses or packages whose sexuality has to be controlled' – how dare she denigrate religious teaching?
Can anything which shuts Yasmin up be all bad?
April 5, 2011 at 13:11







April 4, 2011 at 17:10










April 4, 2011 at 17:45




April 4, 2011 at 14:48







April 4, 2011 at 14:07










April 4, 2011 at 14:06




April 4, 2011 at 11:43







April 4, 2011 at 11:14







April 4, 2011 at 10:13




April 4, 2011 at 09:51




April 4, 2011 at 09:20







April 4, 2011 at 09:05




April 4, 2011 at 08:58







April 4, 2011 at 09:53







April 4, 2011 at 14:03




April 4, 2011 at 08:56







April 5, 2011 at 01:29










April 5, 2011 at 23:12




April 4, 2011 at 08:15




April 4, 2011 at 07:58










April 4, 2011 at 08:44







April 4, 2011 at 13:59







April 4, 2011 at 14:02







April 4, 2011 at 07:46