A Day Out with the Donkey's.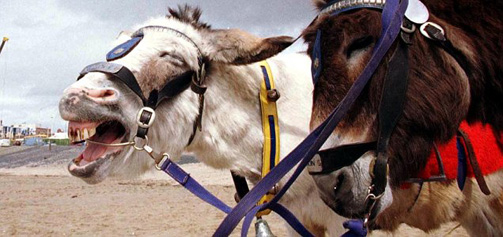 Who'd be a Sandwell borough council ratepayer? It's an onerous condition. If you're not having to pay to persecute elderly war widows, then you're having to dig deep in your pocket to fund days out at the seaside for policemen and councillors.
£2,000 quid was the cost of the last seaside jolly. A day on Blackpool sands with the donkeys.
The 6 councillors and policeman were accompanied by 19 young residents of the borough – not ratepayers themselves, as you might imagine, but invited on this jolly on account of their youth, and their racial origin.
You see, on July 17th, the English Defence League was holding an 'event' in Blackburn, and as is common with such 'events', it was likely that they would be met with violent skirmishes with the local Muslim youth.
You might think that there would be a plethora of Sandwell rate-paying residents who would welcome a jaunt along the sunny Blackpool beach that day, far from the madding crowd – Sheila Martin for one; she could have enjoyed a peaceful cigarette overlooking the glittering waves.
But No, our fearless band of councillors and policemen took 19 young Muslims with them "for the purpose of distracting them from anti–social behaviour on the day of the EDL march in Dudley". The cost was ultimately met by the Youth Justice Board.
So distraught were five of this group, at being 'distracted' from the punch up in Dudley, that under the watchful eye of six councillors and policemen, they arranged a special Blackpool exhibition of 'anti-social behaviour'.
They set upon Derek Brownhill, in front of his pregnant partner and a group of elderly people, and beat him unconscious. Two of them were already on bail for attacking a man with a hammer.
Rashid was jailed for 21 months and Atiq for 16 months for their parts in the assault in Tipton and the incident in Blackpool. Hussain was jailed for 10 months. Telhat was given a community order for 12 months and 12–month supervision order as well as 50 hours unpaid work, while Taheir received a 12–month rehabilitation order.
What will Sandwell do next time the EDL are in town? Take the local psycho's to Disneyland for the day?
h/t The Penguin.
Edited to add: You may remember it was Blackburn man Simon Blackburn, a Labour councillor who was forced to apologise for his 'Donkey-botherers' comment, just a couple of weeks ago.
He went on to say: "I hope and trust that there will be many more enjoyable meetings between Blackpool and Blackburn […] and I'm horrified that my remarks may have caused offence."
March 31, 2011 at 23:22







April 1, 2011 at 09:43




March 31, 2011 at 18:07




March 31, 2011 at 13:54







March 31, 2011 at 12:09