Public Sector Workers chained to desks…..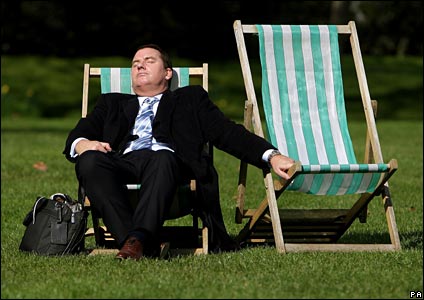 The Public Sector is up in arms this morning.
Its God given right to down tools and cease work on 'essential front line services' whenever the Queen has an official birthday, or one of her children get married, or there is a bank holiday, not to mention the Sabbath and Friday afternoons…had resulted in a promising 11 days holiday in mid April by the simple expedient of taking three days of holiday entitlement between the official Bank Holidays of the 22nd, 25th and 29th of April and the 2nd May.
The Head of the Civil Service has put paid to that. Sir Gus O'Flannel issued a press release saying:
"There have been requests for time off in between the two bank holidays. We've looked at those on a case by case basis and approved none of them. Holiday hasn't been authorised over that period at critical functions such as supporting front line services. We're taking a sensible approach in between the bank holidays to ensure we've appropriate capacity across the public sector to support vulnerable clients and to give us the best possible chance of keeping our jobs in the current financial year."
Those spotting sun bathing public sector workers between 22ndApril and 2nd May can be assured that they are genuinely on the sick list, not on holiday.
April 1, 2011 at 21:09




April 1, 2011 at 20:14










April 1, 2011 at 22:25




April 1, 2011 at 17:30




April 1, 2011 at 14:49







April 1, 2011 at 15:38







April 2, 2011 at 18:29




April 1, 2011 at 11:26







April 1, 2011 at 12:51







April 1, 2011 at 22:27




April 1, 2011 at 10:19







April 1, 2011 at 08:23







April 1, 2011 at 11:31







April 1, 2011 at 11:37







April 2, 2011 at 10:36