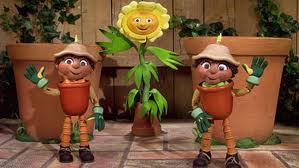 Eric Pickles has offended overstretched public sector workers by asking them to care for taxpayers property.
Remember the pot plants that the Department for Communities and Local Government didn't have? Then it turned out that perhaps they did have, (including three nicely spotted 12' Palm Trees in the entrance) but they weren't expensive leased ones like what that naughty Audit Commission had, these were pucker owned by the tax payer ones and the only expense was a £6,454.58 bill for watering them?
The pot plants are owned by the Department, rather than leased. When the contract ends, as suggested by staff in feedback on departmental cost savings, the plants will be looked after by departmental staff on a voluntary basis. No new pot plants have been procured since May 2010. A copy of the relevant section of the 2004 contract on internal planting has been placed in the Library of the House.
Last September the watering contract was cancelled, and since then the staff have been neglectful of their watering duties, so the taxpayers' pot plants have been withering in their pots.
Which reminded me, the Department for Communities and Local Government famously has a very expensive full time member of staff on 'gardening leave' – shouldn't she be watering the plants?
She's very fond of pleasing the Minister in charge of her department.
Dickless Tracey to the rescue.