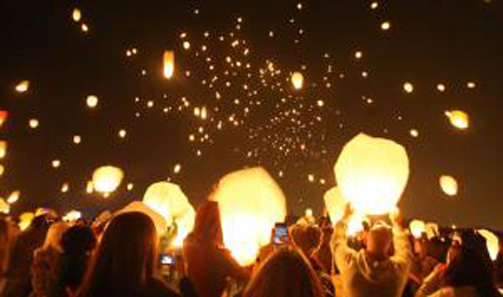 "But, soft! methinks I scent the mourning air; Brief let me be."
There was a certain logic in the public display of grief when Princess Diana died. The Royal Family do represent something iconic to us. We are 'subjects', like it or not. That Diana was accorded the same display of public emotion when she died as we normally display when the Monarch dies was not totally unexpected. A lot of people felt strongly that she had been wrongly removed from her position as future Queen.
The display of flowers? – Flowers are a traditional offering at funerals, originally to mask the smell of the decaying corpse, but a tradition all the same.
When Baby 'P' died, the anger whipped up by the media over yet another baby dying whilst under the watchful eye of the Social Services, exploded in another display of flowers – and Teddy Bears. The death of a child in the community has historically been mourned by those outside of the immediate family, especially when he has been brutally killed by an 'outsider'. We could still follow the logic.
From these events followed the tradition of 'face-book' tribute pages, slightly confusing, for the 'grief' was now to be shared by total strangers along with the school friends and other too young or too busy to attend the service.
We are in new territory now, for the Swindon Advertiser reports that apparently 'thousands of 'S' shaped balloons being released into the sky' is 'the send off that the country had come to expect'.
Why would the country 'expect' that one tragic death should be marked in this way rather than any other tragic death? Who selected Sian O'Callaghan as the poster girl of 'tragic deaths'? Why not Joanna Yeates or any other murder victim? Did she not die 'tragically'?
Not 10 miles away from the 'thousands of people' packing the Swindon stadium to stand in two minutes respectful silence, applaud the newly renamed Sian as 'Swindon's Angel' wildly, and then express their love for someone they didn't know:
"It was an amazing turn out, the sky looked lush with all the lanterns and balloons.
"I didn't know Sian but she was loved by so many people."
Another two corpses passed by unnoticed. Two corpses that were equally described as having died 'tragically' by the same paper. At RAF Lyneham, the bodies of Major Matthew Collins and Lance Sergeant Mark Burgan were making their way home, untroubled by 'S' shaped balloons, or the 'under-12 football team' wearing black armbands, children lighting candles, or thousands of strangers sending lanterns into the lush night sky.
Their family will mourn them, their regiment will mourn them, and their friends will mourn them.
They were, in their way, as iconic as Princess Diana, they represented all of us.
They, of course, didn't die making their way home un-chaperoned at 3am from a 'girl's night out'. Their death didn't command front page news.
'Hundreds of people' may line their route just ten miles away, but 'thousands' will not brave the cold night air to express their love for someone they did not know.
They hit a roadside bomb in Afghanistan, on patrol, on behalf of us all.
Nothing for the media to see, move along there……
March 30, 2011 at 01:07







March 29, 2011 at 23:39







March 30, 2011 at 00:52




March 29, 2011 at 18:59




March 29, 2011 at 17:51










March 29, 2011 at 20:54




March 29, 2011 at 15:36







March 29, 2011 at 20:21




March 29, 2011 at 15:35




March 29, 2011 at 15:29







March 29, 2011 at 14:56







March 29, 2011 at 14:27










March 29, 2011 at 13:59










March 29, 2011 at 14:02