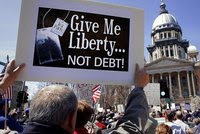 At last, something I can whole heartedly support!
Andrew Withers, Leader of the Libertarian Party is rallying support for a movement to repay debt. Brilliant idea, something I am right behind.
He will be at the Rally Against Debt May 14th 2011, I shall be there, right behind him, as will many others.
If you borrow money, you have a moral duty to repay it. To do otherwise is the very worst of socialist 'its not my fault' values.
The Libertarian movement's motto is 'Do no Harm' and that is best served by keeping your word, and doing unto others as you would have done unto you.
I am delighted to see the leader of our party taking a firm moral stand on this issue. That is what leadership is all about.
March 30, 2011 at 11:04







March 30, 2011 at 12:11




March 30, 2011 at 09:01




March 29, 2011 at 22:25










March 29, 2011 at 22:39




March 29, 2011 at 21:36







March 29, 2011 at 20:50




March 29, 2011 at 20:04




March 29, 2011 at 18:39