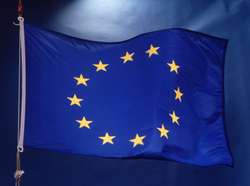 Those puzzled (and pleased?) by the silence of Catherine Ashton, our illustrious unelected European Union 'high representative' for foreign affairs, on the current situation in Libya, might care to look back to this article.
Catharine has had her own 'shock and awe' campaign running for some years to bring Libya into line with European thinking on democracy. You might call it Low Flying Euro notes, which speed past the radar of British media straight into the heart of Tripoli.
Libya worked on the basis that 30% of the population belong to the same tribe as Gadaffi and are quite happy to be led by a madman.
This is obviously unacceptable, and many millions of Euros have been expended trying to tempt Gadaffi into following the hallowed British model whereby 29% of the population vote a madman into the position of leader who promptly bankrupts the country, along the way installing legislation which allows for secret courts, secret prisoners, and ignores European law in many areas.
However, Catherine has failed, and was left out of the meeting with the French and the Americans when it was decided that 110 Cruise missiles, at half a million a piece, should deliver democracy into the heart of Gadaffi's fiefdom. That's £55 million quids worth – even Catherine didn't run up that sort of a bill with her Eurabian adventures.
We are doing this because the 70% of the population that don't agree with Gadaffi as leader, are apparently a rag tag and bobtail army who only have the pitchforks with which they captured the crack SAS team to defend themselves. This would account for the fighter jet they had flying over Benghazi which they now admit they shot down themselves. When insisting on a 'no-fly' zone, it's best not to start by shooting down your own planes.
The American stayed out of the skies, still smarting from their last attempt to bomb Gadaffi into following the British model of democracy, when they managed to flatten the Chinese Embassy, but they expressed disappointment that the Chinese abstained from voting for them to have another go. This time Gadaffi filled his compound with young mothers bearing babes in arms, and journalists, just in case they had got the right coordinates at last.
Gadaffi has lost his seat on the Human Rights Commission, but I am still waiting for the unelected Ms Ashton to announce that he has lost his special status on her precious Eurabian adventure. With 2,000 kilometres of Eurabian seafront to offer, he was her star turn, not even expected to contribute, merely withdraw Euros.
I can only conclude that Gadaffi doesn't want to be ruled by unelected European Commissioners – he obviously didn't appreciate the benefits…..
Grrr.
March 21, 2011 at 20:46




March 21, 2011 at 19:52




March 21, 2011 at 19:43







March 21, 2011 at 19:59




March 21, 2011 at 19:41




March 21, 2011 at 19:24




March 21, 2011 at 15:58




March 21, 2011 at 07:40




March 20, 2011 at 19:22







March 20, 2011 at 23:04







March 20, 2011 at 19:21










March 20, 2011 at 20:34




March 20, 2011 at 15:51




March 20, 2011 at 15:26




March 20, 2011 at 11:06




March 20, 2011 at 10:45







March 20, 2011 at 09:32