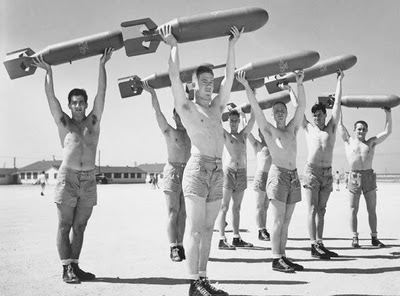 We don't want to fight but by Jingo if we do
We've got the ships, we've got the men,
and we've got the money too;
The euphemisms are being run up the flag pole, and the international armchair warmongers are gathering round the most popular – the 'no-fly zone'. Now if a 'no-fly zone' actually meant no planes in the air, the entire Libyan question being settled on the basis of 'knickers an' vest in the 'oller' as several generations of sectarian violence has been in Liverpool, then I might be in favour.
It doesn't of course; it means none of Gaddafi-currently-on-the-naughty-step's planes being allowed to take off, by the simple expedient of filling the airways with American war planes, as sold to each and every friendly oil consuming nation that could be persuaded to sign up in time, screaming overhead bombing innocent citizens if they happen to be anywhere near where the co-ordinates say it was 'earnestly believed' that three screws that could be used to assemble a nuclear bomb were last seen.
But Gaddafi's bombing his own people, you say, he must be stopped! Yes, but the only way in which you can ensure his planes don't take off is by bombing them, bombing the airfields, bombing the air control towers, and bombing all the people who work in them, are anywhere near them, or happen to be anywhere near the one plane – 'in an operation of this size' – that happened to veer off course and bomb the local primary school. See? We bomb Gaddafi's people for him, this is called moral superiority.
From the news clips which I have seen, most of the damage to human life seems to be coming from the tanks of Gaddafi's elite forces – are we going to bomb them as well? This 'no-fly zone' which is so popular is, after all, being suggested because of the loss of Libyan life – is it OK to be felled by a howitzer but not be bombed from the air? Care to experiment to ascertain how you would feel given the choice?
If we bomb the airfields and the planes, what would be our justification for not bombing the tanks? How do we tell the difference between half a dozen tanks racing across the desert full of defecting elite guards en route to donate their weaponry to the rebels, and half a dozen tanks racing to obliterate Benghazi?
If we do nothing, and stop drooling over pictures of photogenic babies with a leg missing on news at ten by way of stoking our jingoism, then what will happen? Innocent citizens will die – as they will if we intervene. One side or the other will end up with the oil – as they will if we intervene. We could just leave the Libyans alone to slug it out together, we could then make a decision as to whether we wish to support the winning side by buying their oil – or not. 80% of Libya's oil comes into Europe.
Losing 80% of your income is pretty devastating no matter how much of a modern multi-billionaire despot you are. Losing 80% of your income and waking up to find you have trashed your entire estate – and the servants have all fled – is a crippling result. That is assuming Gaddafi's forces win! Alternatively, the rebels may win, and Gaddafi will have been dealt with in time honoured way with a length of wire and the nearest lamp post.
Either way, we won't have added to the carnage, nor will we be financially responsible for rebuilding the country – pace Iraq and Afghanistan – the armchair warmongers may have to turn the central heating down a notch or two, but by the time we had finished paying for the rebuilding of Libya, they would have had to do that anyway.
Drive slower, turn the heating down, bring home the excitable Sky correspondents, it's not the Superbowl, nor a spectator sport: just give us a calm account of the result in a few weeks time and if we don't like the look of the winner, we can all play our part by refusing to buy oil.
We don't have the ships, we don't have the men, and we certainly don't have the money to bomb Gaddafi's citizens for him.
We could usefully have a ban on selling arms to any other country whilst we are about it. Perhaps we wouldn't feel so guilty watching them turn them on their own citizens then.
March 11, 2011 at 19:48




March 11, 2011 at 12:06




March 10, 2011 at 22:33




March 10, 2011 at 20:33







March 10, 2011 at 20:00







March 10, 2011 at 21:09




March 10, 2011 at 19:55







March 10, 2011 at 19:37




March 10, 2011 at 18:31




March 10, 2011 at 18:18




March 10, 2011 at 17:58




March 10, 2011 at 17:30







March 10, 2011 at 19:45










March 10, 2011 at 19:54










March 10, 2011 at 19:57







March 10, 2011 at 20:10







March 10, 2011 at 20:06










March 10, 2011 at 20:13







March 10, 2011 at 20:39







March 10, 2011 at 20:53




March 10, 2011 at 20:59

March 10, 2011 at 22:42




March 10, 2011 at 17:29




March 10, 2011 at 17:11










March 10, 2011 at 17:22







March 10, 2011 at 21:23







March 10, 2011 at 16:02