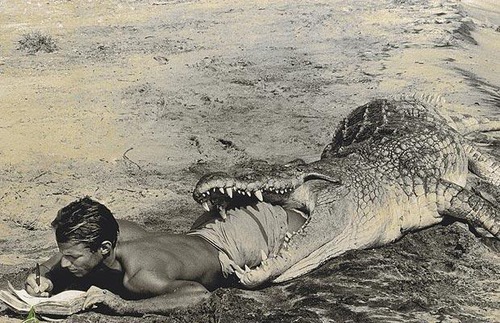 Dear Diary,
Friday night.
Back in my idyllic Yorkshire constituency! I'm up for a bit of romance so I decide to really splash out and treat Ffion to a slap up meal of fish and chips at the local chippy.
Ffion suggests we take the car. No way! Instead I order up a chopper from the MOD (one of the last they've got, it seems) and we go for a hard landing with close protection in the form of eight of Hereford's finest. Landing the chopper on the roof of the chippy causes a bit of stir, and the marquee for the nearby Young Farmer's party gets blown away. The manager of the chippy is annoyed as the wash from the rotor blades has damaged his pickled onions. He gets angry and shouts "All you had to do was book, you prat". Unfortunately in all the confusion we are surrounded by a mob of injured Young Farmers and then arrested by local Plod. Obviously there has been a serious misunderstanding of our role. By the time we are bailed, the chips have gone cold. Ffion looks like thunder. Don't think we are going to be playing Bill Clinton and the Intern tonight…
Saturday morning.
Ffion seems in a better mood and is baking a cake! A bright start to the day and I set out in search of the morning papers. Usually I walk, but I sense danger! I get on the phone and order up a crew of hard men from the SAS. We circle the village in a Hercules (one of the few that's left) and then jump from 25,000 feet in a classic Hi Altitude, Low Opening manoeuvre! Unfortunately it all goes a bit pear shape when me and the lads land in the middle of the annual Montessori School Open Air concert. Apparently, some of the sensitive little mites are a bit upset by half a dozen masked men dressed in black descending on them out of the skies and hurling stun grenades. Especially when Sergeant "B" takes out the woodwind section. Soon we are surrounded by the baying mob of decidedly angry and very middle class parents moaning that their little ones have been traumatised and that we could have parked for free on a Saturday morning if we had come in a minibus. There has obviously been a severe misunderstanding of our role. We are arrested and held hostage by the local Plod, until we are ransomed by Ffion, who agrees to post bail and brings a cake for the desk sergeant. God bless FFion!
Saturday afternoon
Ff ion points out that we need to get the dry cleaning done, so a trip to Sketchleys in Harrogate is on the cards. I am busy watching my favourite film ("Who Dares Wins") and my PPS, Brian, volunteers to go. Obviously this will be a hazardous task – it's Harrogate after all – but I have learned my lessons. I authorise close protection from the SAS for Brian, but they will be undercover in civilian clothes. Later we hear that due to a misunderstanding Harrogate High Street has been cordoned off by armed police. The sharp eyed folk of Harrogate were suspicious of hooded men carrying machine guns in holdalls eating crustless salmon sandwiches and macaroons in Betty's Tea Shop.
There has obviously been a serious misunderstanding of their role. The whole lot have been arrested. Sorting out the explanations and paperwork takes most of the evening. I am forced to speak to the Chief Constable and fortunately secure the lads' release on the promise of a large subsidy to ACPO. When I get back Ffion is asleep.
Sunday
Plan to take Ffion to have Sunday Lunch with Aunty Pru, who lives up in the dales. Nothing can go wrong but Aunty Pru can be a bit spiky so I send an advance party of a diplomat and a platoon from the Special Forces Support Group. Unfortunately, due to a serious misunderstanding about their role, they get into a fire fight with the Cadet Force from Ampleforth School who happen to be on manoeuvres this morning and mistake our lads for terrorists. Bloody hand to hand combat ensues, and casualties are high on both sides. Ultimately the Cadets display the benefits of a rigorous Jesuitical education and overrun the SFSG guys, taking the survivors hostage. I am forced to secure their release with a large donation to School, another cake from Ffion and a promise to ennoble Julian Fellows.
Ffion isn't speaking.
Monday
Back to work. IDave wants to see me…. Oh dear…