Complete Bollards and Cobbles.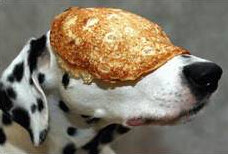 Last year I wrote of the load of bollards appearing in Newcastle at a cost of £500,000 which they maintained was an anti-terrorist device recommended by M16. It turned out to be a government grant which gave £375,000 worth of work to the local council employees which the government had 'suggested' they consult anti-terrorist advice over.
Let us hope that they don't have too many terrorists in Bishops Auckland. They have the same load of bollards littering their streets. So unwilling are they to rely on them in the event of a terrorist – or indeed anyone else – driving down their high street, that they have just cancelled the local Shrove Tuesday pancake race.
You don't see the connection? It is not instantly apparent.
You see, whilst hundreds of local housewives race up and down Newgate Street flipping pancakes as they go – the bollard might, just might, fall flat as a pancake, and fail to rise up, proud and true, as a mighty bollard should.
If that should happen, a car might, just might, be tempted to drive into Newgate Street.
If that should happen, the driver might, just might, ignore the hundreds of people thronging the road, and continue to drive.
If that should happen, then someone might, just might, get hurt….
And the County Council didn't have a back up plan if that should happen.
Michael Straugheir, Durham Police's traffic management officer, said: "If the event went ahead and someone was killed then we would be being asked why we allowed it to happen with no back-up plan in force."
Elsewhere, the Ripon traditional pancake race has been scrapped because of fears over health and safety. Organisers reluctantly scrapped the popular event this year because of mounting costs and bureaucracy linked to health and safety rules. The police wanted more than £1,000 to control the event.
Organiser Bernard Bateman added, 'The main issue with health and safety is the cobbled street people could slip on, but it causes us so much trouble just for a little issue. This stupidity never happened previously. It's a shame that these issues stop the children enjoying such a traditional event.'
Enjoy today, Shrove Tuesday, the day before Sackcloth and Ashes Wednesday. The French excel at pancakes; they melt the butter in the frying pan in this recipe and add it to the batter mix at the last minute – works a treat.
150g plain flour, sifted
pinch of salt
3 eggs
300ml milk mixed with 100ml water
75g butter
Tomorrow you should give up all luxuries until Easter. I'm not sure which year…….
March 10, 2011 at 13:20




March 9, 2011 at 10:16




March 9, 2011 at 07:35




March 9, 2011 at 01:41




March 8, 2011 at 18:34







March 8, 2011 at 17:57




March 8, 2011 at 17:38




March 8, 2011 at 16:27







March 8, 2011 at 15:38







March 8, 2011 at 15:36




March 8, 2011 at 15:31




March 8, 2011 at 15:24







March 8, 2011 at 15:08