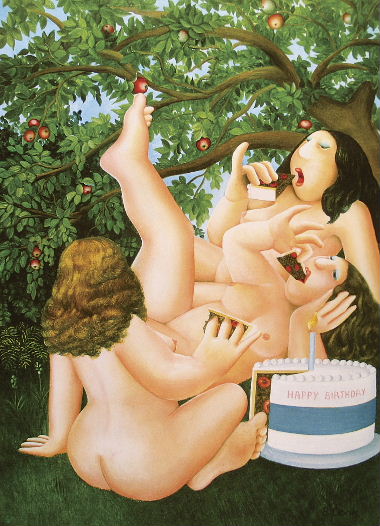 If you are of a sensitive, politically correct disposition, best you run away now and play Solitaire or something, this post is not for you. You'll only get upset.
I want to talk about the deep prejudices, certainly I harbour, and I wonder how many others too, not the ideological claptrap we have been trained to spout.
I can spin the 'beauty is only skin deep' line with the best of them – I sound mighty convincing too; I could even quote you facts and illustrations to prove that I am not racially prejudiced, an essential attribute in this modern world. Best of all, I actually believe it.
Or do I? I found myself examining my prejudices as I lay in bed with an early morning cup of tea, watching Mr G get dressed. I have woken to the sound of a cup of tea landing on my bedside table every morning now for 25 years. Better than any alarm clock.
Mr G is looking extraordinarily good lately, I have to say. Clearing a kilometre of river bank of spindle and brushwood that hadn't been touched for 20 years, followed by shifting and sorting around 30 ton of cut granite in preparation for the stone mason who is about to start work on the new entrance, have honed his physique to something that hasn't been seen for nigh on 20 years. He has lost a stone since the 1st of January – I really should ignore you lot and feed him more often.
Not that he was ever what you might term fat, not by British standards anyway, more of a prop forward build; at 6' 3" he could afford the 16 stone he carried – however at 15 stone he is looking definitely phwoar! I must keep a closer eye on you, I thought, some young filly might run off with you…..
Then I thought – why should it matter? Isn't beauty only skin deep? Am I really so shallow that the first time I ever give consideration to the idea of someone carting Mr G off is when he looks better than ever?
I know that we females are programmed to search for a mate who is strong and healthy, fleet of foot, a hunter who will provide for us, protect us, an' all that stuff, and that a barrel gut that equals your height is probably not the best indicator of coming within that category, but really, as a menopawsal Raccoon, shouldn't that programmed voice have ceased to make its siren call?
I started to list in my head the negative qualities I award to fat. Self-indulgent, selfish even. No self-control. No willpower. Scarcely admirable qualities in a lover, I thought.
Nah, you're being daft said my new found ideological voice. We love our partners for what they are, for better for worse, what's a little middle aged spread? Or a lot of middle aged spread. Or any other impediment that we acquire with age – would I love thee any less [fill in impediment of choice]? No, came the answer, I wouldn't.
The answer I came to is that there is nothing wrong with being fat per se, we all make – and demand – exceptions for our fallibilities, and fat is no different to any other fallibility; a skin deep imperfection, one that could be genetic, could be hormonal, could be any number of different factors outside of our control.
Same with height. Nowt you can do if you are five foot two, 'cept grin and bear it.
There it was again, my cavewoman voice. No matter how hard I tried to shut it up.
'How about marrying an Indian in a turban' it said. 'No thanks', said I. 'Why not'.
Ah, 'why not' – I have no idea. I'm positive I have no axe to grind with Indians, very fond of some of them, spent some years travelling in India, jolly nice people.
'So why not marry an Indian'?
'Because, well, because, because I'd just rather marry a tall slim Englishman with blue eyes, who can run fast and skin a rabbit and make sure the children eat first' said my genetic voice.
Which seems ridiculous – we live in an age of social security; the children will get to eat no matter how self-indulgent he is. We don't need a man to be fleet of foot and fight lions with his bare hands; if he can walk under a limbo dancer's pole – so what? Rabbits come ready skinned in the supermarket; we can drive our own car there and pay for it at the till. We need men like a hole in the head, goes the saying.
So why are we still programmed to admire the tall, slim, fleet of foot ones? What happened to evolution? Why do men still ogle porn with its slim hipped beauties with impossibly long legs whilst assuring the missus that her 'bum doesn't look big in that'?
What is this game we are playing with ourselves that fat is irrelevant in our assessment of a person and their desirable qualities, and why? Why does the football crowd shout 'who ate all the pies'? Not, 'you fat little pig', but 'who ate all the pies'. Why are we so keen to, on the surface, divorce the notion of fat from unrestrained greed, from taking more than your fair share, from preventing others from enjoying what is rightfully their share?
Perhaps I am the sole remaining unreconstructed person who thinks like that? Mea Culpa.
In which case, why is half the country on a diet and trying to get rid of the fat? Don't' tell me it's the health risk – we don't take a blind bit of notice of other health risks; there isn't a massive private sector engaged in flogging 'stop drinking' cures.
March 5, 2011 at 18:07




March 5, 2011 at 09:43







March 4, 2011 at 22:20




March 4, 2011 at 21:29




March 4, 2011 at 18:06




March 4, 2011 at 16:38










March 4, 2011 at 16:19




March 4, 2011 at 16:18




March 4, 2011 at 16:03







March 4, 2011 at 15:45







March 4, 2011 at 14:05







March 4, 2011 at 13:49










March 4, 2011 at 16:12




March 4, 2011 at 13:19




March 4, 2011 at 12:54