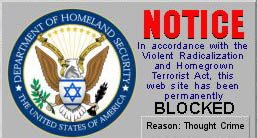 Tony Blair's legacy and what being progressive and demanding equality for all leads to.
Countryside Restoration Trust chairman and columnist Robin Page said at a rally against the Government's anti-hunting laws in Gloucestershire in 2002: "If you are a black vegetarian Muslim asylum-seeking one-legged lesbian lorry driver, I want the same rights as you." Page was arrested, and after four months he received a letter saying no charges would be pressed, but that: "If further evidence comes to our attention whereby your involvement is implicated, we will seek to initiate proceedings." It took him five years to clear his name.
In September 2006, a 14-year-old schoolgirl, Codie Stott, asked a teacher if she could sit with another group to do a science project as all the girls with her spoke only Urdu. The teacher's first response, according to Stott, was to scream at her: "It's racist, you're going to get done by the police!" Upset and terrified, the schoolgirl went outside to calm down. The teacher called the police and a few days later, presumably after officialdom had thought the matter over, she was arrested and taken to a police station, where she was fingerprinted and photographed. According to her mother, she was placed in a bare cell for 3 1/2 hours. She was questioned on suspicion of committing a racial public order offence and then released without charge. The school was said to be investigating what further action to take, not against the teacher, but against Stott. Headmaster Anthony Edkins reportedly said: "An allegation of a serious nature was made concerning a racially motivated remark. We aim to ensure a caring and tolerant attitude towards pupils of all ethnic backgrounds and will not stand for racism in any form."
A 10-year-old child was arrested and brought before a judge, for having allegedly called an 11-year-old boya "Paki" and "bin Laden" during a playground argument at a primary school (the other boy had called him a skunk and a Teletubby). When it reached the court the case had cost taxpayers £25,000. The accused was so distressed that he had stopped attending school. The judge, Jonathan Finestein, said: "Have we really got to the stage where we are prosecuting 10-year-old boys because of political correctness? There are major crimes out there and the police don't bother to prosecute. This is nonsense."
Finestein was fiercely attacked by teaching union leaders, as in those witch-hunt trials where any who spoke in defence of an accused or pointed to defects in the prosecution were immediately targeted as witches and candidates for burning.
Hate-crime police investigated Basil Brush, a puppet fox on children's television, who had made a joke about Gypsies. The BBC confessed that Brush had behaved inappropriately and assured police that the episode would be banned.
A bishop was warned by the police for not having done enough to "celebrate diversity", the enforcing of which is now apparently a police function. A Christian home for retired clergy and religious workers lost a grant because it would not reveal to official snoopers how many of the residents were homosexual. That they had never been asked was taken as evidence of homophobia.
Muslim parents who objected to young children being given books advocating same-sex marriage and adoption at one school last year had their wishes respected and the offending material withdrawn. This year, Muslim and Christian parents at another school objecting to the same material have not only had their objections ignored but have been threatened with prosecution if they withdraw their children.
A primary school receptionist, Jennie Cain, whose five-year-old daughter was told off for talking about Jesus in class, faces the sack for seeking support from her church. A private email from her to other members of the church asking for prayers fell into the hands of school authorities. She managed to come to a financial arrangement with the school and council after a hearing in front of the employment tribunal though she did not go back to her job.
This list was from Hal G. P. Colebatch's book Blair's Britain: British Culture Wars and New Labour
March 2, 2011 at 10:31







February 28, 2011 at 15:03







February 28, 2011 at 14:53




February 28, 2011 at 13:26










February 28, 2011 at 09:13










February 28, 2011 at 08:21




February 28, 2011 at 07:37




February 28, 2011 at 07:18







February 28, 2011 at 11:19




February 28, 2011 at 01:03