Exclusive ++ Hague's Headbangers ++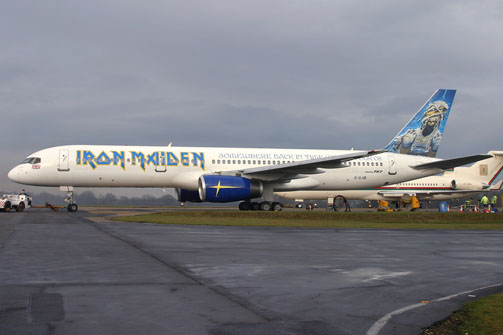 Britain's shame is complete. Overnight I have been digging into the 'technical problems' that beset our mercy flights to collect British citizens stranded in Muammar Gaddafi's murderous Hellhole in the desert.
I am embarrassed to report back to you.
No gunboats, no Hercules, Hague's mercy mission rests on the 'X' factor.
The British government didn't tell British Airways to get back in the air and collect its citizens – they sent for the planes piloted by Britain's number one headbanger – Bruce Dickinson, the man who gave up warbling:
The rising dead, faces bloated, torn
They are relieved, the living wait their turn
To act as Marketing Manager and Chief Pilot on mercy flights for a little outfit called Astraeus Airlines whose previous claim to fame was that they were the only airline to operate a B757 combi passenger and cargo aircraft – mainly so that they could use the plane to fly Iron Maiden on the 2008 tour. Bruce Dickinson doubled as both lead singer and Pilot of the B757…
Ultimately owned by an Icelandic travel company, they have kept themselves airborne by specialising in flying Hajj pilgrims to and fro the Middle East. Mind you, they also fly the kids to Finland for their winter visit to 'Santa'.
Since May of last year they have been operating a continuous schedule of behalf of the Ministry of Defence flying troops to and fro the Middle East.
It is scarcely surprising that they were late taking off from Gatwick – the latest industry figures show that 17% of their flights are 'excessively late', 6% 'very late', and 12% merely 'late'.
Astraeus Airlines endeared themselves to our present government when they provided unmarked planes to keep 'BA passengers flying even when its planes are not' during the recent strike action by BA cabin staff. Nothing much has changed – BA stops flying to Tripoli and Astraeus steps into the breech once more. Eventually.
– and we were worried about sharing our aircraft carriers with the French!



February 27, 2011 at 23:28




February 25, 2011 at 18:41







February 25, 2011 at 11:33




February 24, 2011 at 23:44







February 24, 2011 at 22:58




February 24, 2011 at 20:57










February 24, 2011 at 19:18




February 24, 2011 at 14:49







February 24, 2011 at 14:48










February 24, 2011 at 12:14