The Cheque's in the Post….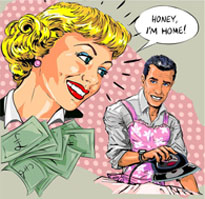 Does that warm your heart in the same way that 'Honey, I'm home' used to? Will the cheque put the rubbish out, listen to your tale of woe, and then fall asleep in front of the TV?
Will the cheque read a bed time story to sleepy youngsters, or run ahead of you on the beach and provide you with photographs that you will keep for your lifetime? Will it build sandcastles, or cheerfully succumb to being buried up to the neck in sand for laughing youngsters?
Are not those the things we mourn when we lose someone we love to a fatal accident?
It seems as though Parliament and the legal profession are conspiring to convince us that what we really miss is the economic viability of that person. That in turn is conjuring up an image of us as merely economically viable entities.
It is no wonder that we are increasingly seeing media comment that refers to the elderly as a 'burden' that our children should not have to shoulder, that homes are now investments for future inheritance that our children should not have to 'lose out on'. That an apology for a wrong is only valid if it comes accompanied by a large cheque.
There is nothing wrong in principle with society gathering round a grieving widow and helping to support her, that is the basis of the statutory lump sum payment that is made following the death of a partner, child or spouse, in a fatal accident. It is a cushion provided by society of £11,800 to help with immediate expenses. There is a separate claim for reasonable funeral expenses.
There is nothing wrong in principle with society supporting a person unable to work because they are caring for children and no longer have the financial support of the bread winner.
However, parliament and the judiciary have moved a great deal further down the compensation highway than those simple strategies. Nowadays you can receive a substantial lump sum for 'grief and sorrow'. Grief and sorrow are no longer a normal reaction to losing someone you loved – if you lost that person because of 'fault' by another party, you are entitled, not to a heartfelt apology, but to a cheque as compensation. Grief and sorrow have become an 'injury' in their own right.
Last week a Scottish court upped the anti in these stakes, awarding 70 year old Ian Hamilton £80,000 for his grief and sorrow after his wife Caroline was killed in a motor accident, and further stunned the insurance world by awarding a record sum of £120,000 to her daughter Kirsty who was 15 at the time of the accident, for 'loss of society and grief and sorrow'.
That a bereaved person should be able to make a 'dependency claim' is one thing, but when the decision was made that a bereaved partner who remarries, and thus is no longer dependant, should not disturb the financial obligation on the person who caused the death, it seems to me that we moved from easing the burden on a grieving partner to putting a financial value on the head of the deceased.
As it happens, I refuse to have life insurance – for the protection of Mr G. I feel that the temptation to wring my neck one night might overwhelm him if I was worth more dead than alive. I am protecting him from his own fallibility. I am joking of course; he would no more want to exchange me for a cheque than I would him.
I don't seek to minimise the grief and sorrow 70 year old Ian Hamilton undoubtedly suffered at unexpectedly losing his wife – but is this something that all the insured drivers from this particular insurance firm should be clubbing together to compensate him for?
Can a cheque compensate for the loss of a person that you love? It can pay the rent but can a cheque ameliorate 'grief and sorrow'? How do we explain that brothers and sisters are not included in the list of people who can make such a claim – why is their grief somehow 'different'?