Scandal of the care of the elderly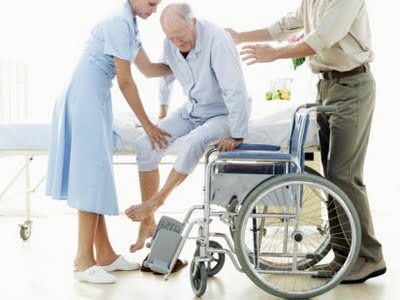 The coalition must address the scandal of the care of the elderly.
George Osborne has been right to face the challenge of the deficit promptly and robustly. The coalition inherited a deficit problem produced by years of profligacy by government of all colours, when wheeling out figures on public spending was the magic bullet for all problems, without reference to value for money or, bluntly, whether the country could afford it. Osborne cannot openly say so in case he spooks the market, but the country came close to losing the confidence of the money market. Given the state of government borrowing a higher rate of interest would have all but crippled the nation, and risked a restructuring of expenditure imposed from whoever the government would have had to turn for a bail out – as we have seen in Ireland.
But addressing the deficit in the nation's finances is necessary, not sufficient, purpose of government. A government needs a wider moral compass, and the will and imagination to deal with critical social issues; or at least facilitate is citizens the means to do so themselves.
David Cameron has laid out his platform for a moral vision to go along with fiscal and economic re-structuring based on "the Big Society." Cameron seems sincere, but it is hard to see this amorphous idea striking a chord with the very members of the "Big Society" which it seeks to engage, or that the concept has a cutting edge of relevance to the real, day to day concerns.
There are many issues that lay legitimate claim to the priority of government and resources; reform of the welfare sector; youth unemployment; lack of affordable housing. However, I suggest the highest moral duty of the coalition must be to address the scandal of care of the elderly, in hospitals, in care homes or indeed in their own homes.
This week Health Service ombudsman Ann Abraham presented her report to Parliament about the care of the elderly within the NHS. For once, a quango-ista has done something useful.
Here is a sample of a case study, taken at random:
"Mr D was first admitted to the Royal Bolton Hospital NHS Foundation Trust with a suspected heart attack and discharged a week later with further tests planned on an outpatient basis. Four weeks later, Mr D was readmitted with severe back and stomach pain. He was described by clinicians and nurses at the hospital as a quiet man, well-liked, who never complained or made a fuss. He did not like to bother the nursing staff.
Mr D was diagnosed with advanced stomach cancer. His discharge, originally planned for Tuesday 30 August, was brought forward to 27 August, the Saturday of a bank holiday weekend. On the day of discharge, which his daughter described as a 'shambles', the family arrived to find Mr D in a distressed condition behind drawn curtains in a chair. He had been waiting for several hours to go home. He was in pain, desperate to go to the toilet and unable to ask for help because he was so dehydrated he could not speak properly or swallow. His daughter told us that 'his tongue was like a piece of dried leather'. The emergency button had been placed beyond his reach. His drip had been removed and the bag of fluid had fallen and had leaked all over the floor making his feet wet. When the family asked for help to put Mr D on the commode he had 'squealed like a piglet' with pain. An ambulance booked to take him home in the morning had not arrived and at 2.30pm the family decided to take him home in their car. This was achieved with great difficulty and discomfort for Mr D.
On arriving home, his family found that Mr D had not been given enough painkillers for the bank holiday weekend. He had been given two bottles of Oramorph (morphine in an oral solution), insufficient for three days, and not suitable as by this time he was unable to swallow. Consequently, the family spent much of the weekend driving round trying to get prescription forms signed, and permission for District Nurses to administer morphine in injectable form. Mr D died, three days after he was discharged, on the following Tuesday. His daughter described her extreme distress and the stress of trying to get his medication, fearing that he might die before she returned home. She also lost time she had hoped to spend with him over those last few days….
Mr D's daughter complained to the Trust and the Healthcare Commission about very poor care while in hospital. When she still felt her concerns had not been understood she came to the Ombudsman. She described to us several incidents that had occurred during her father's admissions. She said:
he was not helped to use a commode and fainted, soiling himself in the process
he was not properly cleaned and his clothes were not changed until she requested this the following day
the ward was dirty, including a squashed insect on the wall throughout his stay and nail clippings under the bed
he was left without access to drinking water or a clean glass
his pain was not controlled and medication was delayed by up to one and a half hours
pressure sores were allowed to develop
no check was made on his nutrition
his medical condition was not properly explained to his family"
It is shocking stuff, but it is not unexpected stuff. This is not to decry the NHS, or all that work within it. There are many good souls who work tirelessly and selflessly, but it is to point out that within hospitals and care homes, both private and state run, the problem of care for the elderly is becoming acute.
This is no surprise when the numbers of elderly persons in proportion to the population at large is increasing ageing so rapidly.
According to government figures by 2034, 23 per cent of the population is projected to be aged 65 and over compared to 18 per cent aged under 16. The fastest population increase has been in the number of those aged 85 and over, the "oldest old". In 1984, there were around 660,000 people in the UK aged 85 and over. Since then the numbers have more than doubled reaching 1.4 million in 2009. By 2034 the number of people aged 85 and over is projected to be 2.5 times larger than in 2009, reaching 3.5 million and accounting for 5 per cent of the total population: http://www.statistics.gov.uk/cci/nugget.asp?ID=949
With this comes the inevitable problems of failing health and failing minds. According to NHS statistics the numbers of patients suffering from Alzheimer's and dementia is set to rise by 72 per cent over the next 20 years to about one million: http://www.channel4.com/news/nhs-figures-predict-dementia-timebomb
Clearly this has economic consequences. One might observe about the irony of all this is that the government exhorts us to drink less and smoke not at all, whilst all the time cynical actuaries of Whitehall must secretly be wishing we would all consume the heavily taxed products and drop down dead at the end of our tax yielding years.
Against the background of cuts in local authority spending the threat is to the existing standard of care homes, not more and better services.
I am not advocating that people should abdicate responsibility for their old age, but that society at large has a responsibility to allow them dignity in their treatment, and in their living standards.
The burden placed upon the younger generation acting as "carers" for sick and elderly parents can be intolerable. If and when the state or indeed a private organisation must step in to assist, it must be within a culture that is caring, compassionate, understanding and patient.
Cameron should move away from his concern for "the Big Society" and address a specific issue which is profoundly important real people. This must be the social priority of the now, not the future.
Gildas the Monk
February 20, 2011 at 19:34







February 20, 2011 at 20:07







February 21, 2011 at 09:33










February 21, 2011 at 18:15







February 21, 2011 at
18:50







February 20, 2011 at 08:23