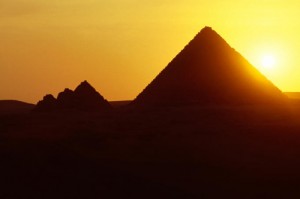 Earlier in the week I posted a short article which touched briefly on the protests in Egypt and the way in which the internet had facilitated them: https://www.annaraccoon.com/politics/politics/the-real-big-society/
The will of the people, I observed was clear; they wanted Mubarak out.
It was only an aside, but it produced some interesting responses from readers, including one from "PT" who pointed out that this was debatable. What we were not seeing were the tens of millions of people who are not demonstrating observed PT; we were seeing only what the media allowed us to see. PT makes a point which should not be dismissed. Imagine that sitting in your bijou apartment in Egypt you viewed footage of the Poll Tax Riots. You might assume that the Thatcher government was universally reviled and had no mandate at all; the rather more complicated truth being that it and this particular policy were reviled by a significant number of politically active and rebellious individuals, but across the country tens of millions of people were getting on with their lives, grumbling a bit maybe, but with many millions still having voted conservative.
However, with that said, I think the will of the people has been clear. Popular mass movements of this type cannot work if there is any significant political support for the government. Whilst it may be the case that not everyone gets out on the streets, part and parcel of the real force is the almost universal tacit support of the wider public which the street protesters represent.
In foreign policy naked self interest is both logical and inevitable, and I have always been reasonably relaxed about the "Son Of A Bitch" principle: "I don't care if he's a son of a bitch, as long as he's our son of a bitch." It is a policy chiefly ascribed to America, but all powers have followed it since time immemorial.
Mubarak was one example of such policy, and I find it amusing to see our nimble footed politicians queuing up to call for democratic reforms when for so long we have both actively and tacitly lent support to the regime as a bastion of pro western interests in the Arab world.
And whilst I am not prone to bleeding heart Channel 4 news style bleeding heart tofu loving liberalism, I did find that there has been something inspiring and uplifting about the simple dignity of a mass movement for democracy, facilitated by the internet, overcoming the established state apparatus.
Even my flinty heart could not help feel a spark of admiration, even elation, at the way in which the protest have conducted themselves. On the whole peaceful, persistent, joyful, and inclusive; men and women, young and old, significantly (I hope) Christian and Muslim, all united in a desire for a representative government, reform and freedom. In a good speech yesterday, what President Obama called "the moral force of non violence".
In this there is a message of hope for all Libertarians, and an ominous portent for all governments, including our own (of whatever complexion).
Of course, the big issues remain. The army remains in control. Will there be true democracy in due course? With what results? What political parties will be formed? Will the movement be hijacked by radical Islamists?
The stakes are high because of Egypt's critical location and position as a mainspring of Arab intellectual culture and because of its relationship with Israel. It is a fact that democracy can lead to results which "the West" finds awkward, unpalatable and dangerous. Witness Hamas; whatever take one has on its activities, it has a popular mandate of some sort. One might even say the same of Sinn Fein.
However, the positive side is that a voice calling for freedom and democracy has sounded on the Arab Street. Tunisia has already experienced its "Jasmine revolution". Now governments in Jordan Algeria and Saudi Arabia tremble. And no doubt ours does too behind the closed doors of Whitehall as the accommodations and pacts which have been intended to promote stability and the flow of oil may now face a new challenge.
To use a possibly non "pc" metaphor, the genie is now out of the bottle. What the people of Egypt and the wider Arab world command this genie to do must, of course, be uncertain.
But perhaps in the long term if this voice can be fostered and nurtured it might find a much more effective and durable bastion against extremism and radical Islam than the "Son of a Bitch" principle or the persistent invading of other countries.
And perhaps it is time for us in Europe to cast aside an in bred intellectual and political snobbishness to learn some lessons from the Arab Street. I am not alone in noting that last week matters took an ironic turn when "the European Union's High Representative for Foreign Affairs, Baroness Catherine Ashton, penned an article in The Guardian calling for "Deep Democracy" in Egypt: http://uk.ibtimes.com/articles/109009/20110204/unelected-baroness-catherine-ashton-of-eu-laughably-calls-for-democracy-in-egypt.htm.
By "Deep Democracy" she appears to mean the type of democracy which she would naturally approve of with lots of committees and interest groups and quangos and a natural habitat in which the professional administrator can safely graze and prosper.
As other more able than I have observed, ironic because our noble Baroness and "High Commissioner" (not just your ordinary Commissioner!) has never been elected by anyone to do anything in her entire quango driven life. She is able to sit in Parliament and pass laws over me by virtue of her ennoblement by Labour in 1999. No one voted for her. She purports to speak for the "EU" but no one elected her there either. On the wider front, the EU is a faceless organisation, unable even to sign off its accounts because of corruption. I have never in my lifetime had the chance to vote for or against it. As to what my views are on that topic I'm not saying. My point is that I have never been asked.
Perhaps the lessons of people power should be learned here. Perhaps a dose of really Deep Democracy would do Baroness Ashton and the other faceless non entities who govern without mandate good.
Gildas the Monk
February 14, 2011 at 08:42




February 13, 2011 at 22:12




February 13, 2011 at 20:50




February 13, 2011 at 14:26




February 13, 2011 at 13:54







February 13, 2011 at 12:14




February 13, 2011 at 12:00







February 13, 2011 at 12:59







February 13, 2011 at 10:52




February 13, 2011 at 10:51




February 13, 2011 at 09:36




February 13, 2011 at 09:36




February 13, 2011 at 09:29







February 13, 2011 at 10:16




February 13, 2011 at 08:49







February 13, 2011 at 08:23




February 13, 2011 at 06:14