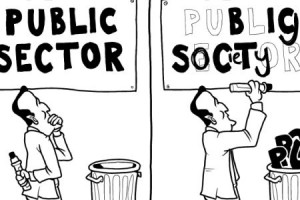 I am indebted to the acerbic genius that is Old Holborn (hobbies: "provocation, mischief" – his words not mine) for drawing my attention to the youtube video that I refer to below. I do not always agree with Mr OH, but I am always better informed, challenged and amused by his extraordinarily incisive mind. His website is here: http://www.oldholborn.net/
Now much as I might like IDave, I have one or two issues with him. He seems OK, and almost the sort of bloke you might like to have a beer with, but then I have to remind myself that he is PM and nobody – nobody – get's to be PM without a ruthless selfish streak a mile wide.
And all this "Big Society" idea. I listened to it during the Election Campaign, and from the political standpoint, I thought it sucked. Even at its best no one knows what it means. Is it some sort of pro-giantism agenda? Are we all to be given growth hormones? At its worst it's the sort of patronising tosh which only a well meaning toff could come up with. It is meaningless rubbish and just doesn't play well with the ordinary voter, who has concerns about tax, crime, mortgage rates, jobs and the price of beer and fish. And if he or she tries to sign up to be a volunteer football coach is liable to be arrested for being a child molester unless he or she has been "waterboarded" by Gary from Social Services (although Gary may well be off sick with stress, and his assistant co-worker Jo will be off with stress as well).
Anyway, what about a different idea of a Big Society? One which has not been possible before. One where I can write this in my little study and within minutes you can read this if you are next door, or in the next county, or on the other side of the world? Where we can, in short, come together and communicate share, engage, debate and laugh.
Or indeed agitate revolt and organise. As I write this, President Mubarak of Egypt is clinging to power in a way which would make even Gordon Brown look like a democrat. Almost. It's not going to last, I suspect. I fear trouble. But think of that: I have been listening live to what is going on in Egypt, and the howls of derision of the crowd! Amazing!
The will of the people is clear. Whether this will be hijacked by other forces is another matter. And in this Egyptian revolution the role of the internet has been important as ideas of freedom have spread across the Arab world, and information about demonstrations have been shared.
No wonder governments quake. They fear the exchange of ideas and information.
But let's leave aside revolution for the moment. We will come back to that in the future.
For now, let's imagine, as OH pithily suggests, a really Big Society. One where across the planet we share, discuss, unite and even sing, assisted by the facility of the Internet.
Sing? Oh yes. Listen and watch, and enjoy the potential for us all to join, unite and be free. And sing.
I beg you to indulge me for one second.
We live in the Universe. "Uni – verse". One Song in which we all play our part.
Over to you. Enjoy. I think it's lovely.
http://www.youtube.com/watch?v=D7o7BrlbaDs&feature=channel
Gildas the Monk



February 11, 2011 at 21:00







February 11, 2011 at 15:49




February 11, 2011 at 13:26







February 11, 2011 at 14:51







February 11, 2011 at 15:28







February 11, 2011 at 15:30







February 11, 2011 at 14:55




February 11, 2011 at 12:32










February 11, 2011 at 12:56







February 11, 2011 at 19:13