Flying Fish and Other Phenomena.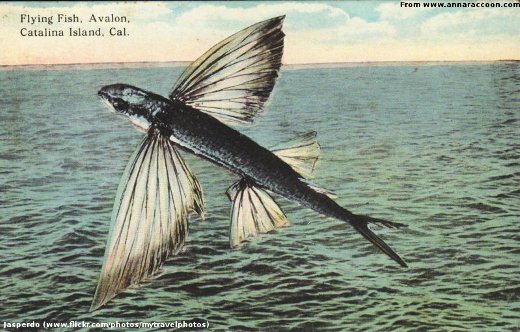 The Environment agency is 'poised' – roughly translated as, risk assessment has been done, contracts for transport agreed, all expert reports in and paid for – to airlift thousands of freshwater white fish from the Lake District to the Scottish lochs where they will be 'safe in the cooler waters' – judging by the past few months weather in Scotland, they will be exceedingly safe unless the Scots cotton on to the Icelandic method of fishing through ice holes.
This expensive operation is naturally a result of that phenomenon known as global warming…..
Malcolm Fergusson, the Environment agency's head of climate change, said:
Climate change is one of the greatest challenges facing the world today. We are beginning to feel the effects in the UK. […] we are also on the front line, helping communities and organisations to be ready to face the consequences of more extreme weather.
Fish first, other mortals later.
The Highways Agency is also releasing a report this week of their efforts to combat global warming, which include the gem that they have lately taken to resurfacing the motorways across England with a new material called ENE2, a wondrous substance which has done an excellent job on the roads around Cannes and Nice in protecting the surface from temperatures up to 60° Celsius. Those trapped in ice and snow bound motorways must have rejoiced at their foresight; heavens they could have resurfaced the roads with a solution of silicon bristles which prevent the surface from freezing.
The Highways Agency said the changes were part of "strategic planning for climate change, where we have researched the likely effect of higher temperatures on carriageway surfaces and on the deeper layers of the road structure".
Amusing as these gibbering idiots may be, we should remember that we are paying their wages. Perhaps we could swap some of the 'front line public service cuts' that will leave Grannies dying a lonely death in their hovel, for some of the morons that wish to speed up evolution.
Did no one tell them that fish develop wings when they need to get somewhere faster than their little tails can swim?



January 25, 2011 at 12:25




January 24, 2011 at 21:57




January 24, 2011 at 20:48







January 24, 2011 at 14:44







January 24, 2011 at 14:39




January 24, 2011 at 13:57







January 24, 2011 at 11:56







January 24, 2011 at 11:50




January 24, 2011 at 11:41










January 24, 2011 at 11:16










January 24, 2011 at 11:15




January 24, 2011 at 10:22