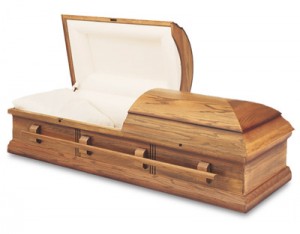 Redditch council is planning on using the waste heat from a crematorium to warm up a swimming pool. Their plan is to save money, nearly £15K/yr by diverting the heat that would normally go up the chimney into heating the public baths.
The problem they have is that they expect it to be perceived as gross, sick, in poor taste, and disrespectful to use the heat used to burn dead people into providing a useful facility for the living. I suspect this is the same perception that cremation had before it was introduced. The first cremation in modernish times was in 1885 but it wasn't actually legalised until 1902. Until then it was seen as something to be reserved for the truly evil and other heathens. So to burn a body was seen to be disrespectful to the dead.
In fact because it's not discussed I suspect that if people realise that the left over metals such as hip or knee replacements or even pins used for badly broken limbs is sold as scrap ready to go into the next plane they would be just as disgusted. What about the waste of natural resources with the casket. In the UK only a wooden casket can be used and it has to be burnt. In many other countries cardboard is used during the actual cremation. This would disgust many other people.
But it's not all people who would be disgusted by the various methods of body disposal. Some see it as a good thing that something productive comes from the dead, something that would be just buried and forgotten about otherwise.
Times change. Society changes. People change. We are born, we live, and we die.
Times change. The next method for the disposal of dead bodies is probably going to be alkaline hydrolysis. This is where the body is dissolved in an acid under high temperature and pressure leaving very little behind. It's advocated as the next best thing because the heat isn't anywhere near the temperatures required for cremation. However the remains aren't generally thought to be easily and neatly handed to relatives to put on the mantelpiece, though the process does leave bones which can be cremulated to produce "ashes".
Society and people's attitudes change. Hydrolysis is perceived as vile and dehumanising as the remains can easily washed away into the sewer system. Or that the remains might end up in the water we drink, a bit like Soylent Green. But you can't say that it will be seen that way forever, especially if the issue of flushing away is overcome. Maybe instead dead bodies will be launched into space as that is neat, tidy and nothing horrible happens to the dead body in space – well not that you can see anyway.
When we die there's not much you can do with your remains except stop it putrefying and causing a mess. How we do it doesn't make much difference especially to the dead body. What it does make it a difference to are the surviving family, relatives and friends. They still care about their relative who passed away and it's their memories of that person which is the most important. If they need a token to look at or go to to remember then there are many objects which can provide this from gravestones to urns to a tree or bench or even a piece of jewellery.
Personally I see an urn containing ashes placed on a mantelpiece as just a little bit creepy. I would prefer hydrolysis or even frozen in liquid nitrogen and crushed into smithereens. But then that's me. Your mileage may vary.
SBML



January 26, 2011 at 16:43










January 26, 2011 at 20:29










January 27, 2011 at 03:46







January 26, 2011 at 15:38




January 26, 2011 at 14:17




January 26, 2011 at 11:59










January 27, 2011 at 21:06




January 26, 2011 at 09:42










January 26, 2011 at 07:27







January 26, 2011 at
08:53


January 26, 2011 at 00:36




January 25, 2011 at 23:53




January 25, 2011 at 22:54










January 26, 2011 at 07:29










January 25, 2011 at 22:59







January 25, 2011 at 22:50










January 25, 2011 at 22:51







January 25, 2011 at 23:17










January 26, 2011 at 00:34







January 25, 2011 at 22:29