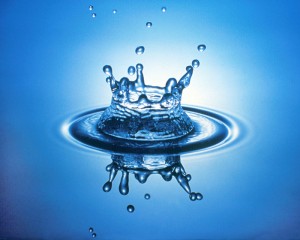 We are always told to drink lots of water. We are bombarded with these messages from TV/Radio health programmes, government health propaganda, and advertising from drinks companies.
All this on the basis that our bodies allegedly can't tell us when we are thirsty. It's the state interventionist way of saying that "we" know best and you should carry around a bottle of water so that you don't die and don't end up with wrinkly skin when you get past 45.
Sometimes the interventionist message is the total opposite and they will ban the bottle.
The drink companies pick up on this and use it in their advertising to push their products. Weirdly for something that is natural and all around, the companies have to go out of their way to say that their product is better than the rest. Either because it includes extra sugar or doesn't include sugar (I didn't know H20 included C6H12O6) or many other minerals or ingredients. None of this extra stuff makes the slightest difference to our bodies. Water is water.
Our bodies are miracles of water conservation. It can collect water from a wide variety of sources not just "pure" water. Did you know that it can collect water from food too. Its amazing how much water some foodstuffs hold. Just cook some rice and see all the water disappear into the rice. You're drinking water whilst you eat the rice. So eating a curry with rice goes towards your two litres a day requirement.
In fact our bodies don't need two litres a day. It can be as much as six litres in some very hot dry climates. In the UK, it can be less since we aren't in a hot climate. In fact for office workers who have a cereal with milk and coffee in the morning, some soup at lunch, and a good evening meal along with regular cups of tea/coffee during the day do not need any extra water at all. And extra water to keep your skin wrinkle free doesn't make much difference either.
So free yourself from the bottle.
SBML



January 24, 2011 at 17:24




January 24, 2011 at 11:27




January 24, 2011 at 02:25




January 24, 2011 at 01:26




January 23, 2011 at 21:22




January 23, 2011 at 19:38







January 23, 2011 at 18:25










January 23, 2011 at 19:47




January 23, 2011 at 17:06




January 23, 2011 at 16:08




January 23, 2011 at 15:52




January 23, 2011 at 14:32




January 23, 2011 at 14:17







January 23, 2011 at 14:05