The Sunday Sermon – Bankers, bonuses, and the "S" word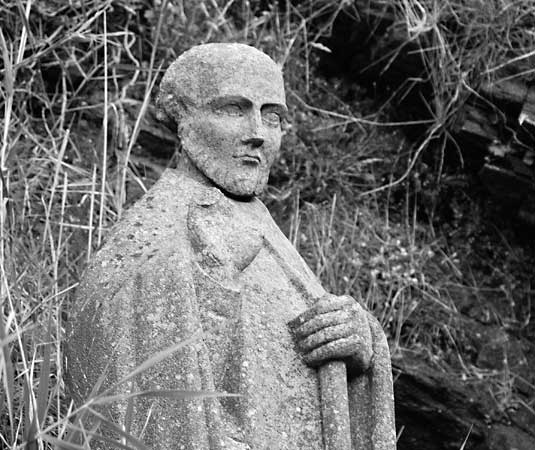 This week, as part of my ministry, I was called upon to give comfort to a man who had lost his home. Jon, as we shall call him, had been made bankrupt, and his home had to be sold to pay his creditors. There was nothing practical I could do to prevent this, and I had to confine my self to providing such spiritual comfort as I could.
Jon is a good man, in middle age, with a wife. He had made mistakes to be sure, but he was also another victim of the recession and credit crunch. I was very upset.
Which brings me back to bankers. And with my tin hat firmly on, a full on moral attack on the banks, those "Masters of Universe" who sit in command of them, and their pay and bonuses.
This week has seen in the latest chapter in the bonus saga, with Britain's best paid banker, the aptly named Bob Diamond, Chairman of Barclays, giving evidence to the Treasury Select Committee. "Diamond Bob", by the way, must make do with a pittance of a basic salary of £1.25 million per year, but fortunately is probably able to stave off his own bankruptcy with the aid of a bonus rumoured to be in region of £8 million.
The Committee indulged in a spot of banker baiting about bonuses. Diamond Bob adopted a hurt demeanour, like a puppy that had been kicked for pooing on the carpet, or an overpaid premier league footballer unable to understand why administering a good roasting to a 16 year old girl should not be a natural and proper perk for him and his mates. He seemed baffled by the whole issue. What was wrong with earning over £9million a year? Like some annoying woman in a shampoo advert, his view was it was ok "because I'm worth it".
Let me say at once that I have always been of a laissez faire point of view – within reason. If a man has talent let him use it and work hard, and reap whatever rewards may come to him.
And when it comes to taxing the banks, and the payment of bonuses, the logical arguments for the Government treading softly are quite clear:
The banking industry makes a colossal contribution to "UK PLC" in terms of employment, profits and hence the taxation.
In order to maintain its position – some say pre-eminent position – the City needs to attract and keep the best. That means big payouts.
If there is over taxation and control of bonuses then the banks will simply decamp. Indeed, on the radio this morning I heard someone mention that HBOS had already started to move key staff to Hong Kong, and make preparations to move its entire administration. That would be the same HBOS I presume, which together with RBS Lloyds TSB received a bailout from the UK government – no, taxpayer – of at least £37 billion.
It is clear therefore, that my moral qualms as to the level of payment to senior figures in the banking and indeed hedge fund business are foolish and impractical. New Labour once famously promised to deliver an "ethical" foreign policy. It was a farce; the realpolitik of foreign policy, with its dirty little wars and dodgy trade contracts saw to that.
The gross salaries and bonuses of the Masters of the Universe are a necessary, if unpalatable means to the greater good, the tax harvest that flows from the City.
Are they?
First, I ask the question: are bonuses in the sum in issue "moral"? Are they, in other words, "just" when the great mass of the population groans beneath the burden of debt and taxation, spawned to a significant degree by the follies of these institutions? Is there no such thing as a moral dimension in this issue?
I have always taken the view that there is no need define the words "moral" and "just" with intellectual precision. Indeed, quite the opposite is the case. Like an elephant, you know it when you see or feel it. Mankind (and especially the stoic, patient British, for some strange unfathomable reason) possesses an internal compass for these purposes.
I have examines my internal compass: it says they are immoral and unjust.
No, they are not just where so many of the banks have done their best to push the world into crisis and owe money to the very public upon whom they gorge themselves like slick corporate leaches. No bailout for Jon, of course.
No, they are not just, because the banks with their Ponsey Scheme economics have wrecked lives.
No, they are not just because the men and women who claim them have not built business and contributed creatively to their communities; what they have done is shown skill in climbing the greasy internal pole of power in corporations which, fundamentally, organise manipulate and control the monies of others.
The threat by banks to remove their operations bears some consideration. It strikes me that it is rather like a dealer and pimp who threatens his junkie streetwalker. Behave, comply, and let me continue my abusive behaviour; he says. In return, you may have your fix of white powder, but you must whore yourself in return.
That is what the government – all governments – have become: an addicted whore. Spending money is its addiction, and it needs cash to service it just as a junkie steals to feed his habit. To do this it whores itself to the vested interests of the banks.
The correct moral and practical response to such a situation I have described above are clear and coincide, although they are painful in the short term. To hell with the dealer, and go cold turkey.
The insidious threat of those with their hands on the controlling levers of financial power that they will take their bat and ball home (or elsewhere) should be seen for what it is: bullying.
It should be met by a robust and practical response from the State. There I have said it! The State! A word which is perhaps anathema to many who read this blog. It is not anathema to me.
I define it thus: the legitimate expression of the collective will of the people organised for the good of the Commonwealth. And I have no qualms about it using its sovereign power to take on and deal with any evil which affects the good of that Commonwealth. And I include bankers within that category, without qualm.
Perhaps I am now Gildas the Marxist! Well, there's something I would never have expected to say!
I also believe the threats and blandishments about the need for employing the best talent are themselves a form of blackmail. These are not in fact the "Masters of the Universe." Look at their works and the results of their works! All powerful intellects, serenely guiding us and their institutions? No, to slightly misquote Eddie Murphy in "Trading Places", what you guys are is a bunch of bookies.
Is it to be said that it would be impossible for this nation to organise rivals to such corporations, with the wealth and talent available? Would it be impossible to attract new talent every bit as good as Diamond Bob, and pay them very well, but not in obscene amounts? Would it be impossible to form mutual, conservative, not for profits institutions like so many of the Building Societies used to be, until under the influence of yuppie wunderkind, they joined the lemmings of the financial community in a headlong charge to debt and ruin?
To those banks controlled and propped up and owned by the State – us – I say; reign in your pay or we bust you, and seize your assets. To those free of State control, I say, well done, and pay what you like; but never at the expense of the people, and your directors shall pay tax on every penny. At a proper rate.
Or literally, go to Hell!
Gildas the Monk
January 16, 2011 at 23:51




January 16, 2011 at 20:12




January 16, 2011 at 19:57




January 16, 2011 at 19:00







January 16, 2011 at 13:33










January 16, 2011 at 20:28










January 16, 2011 at 21:32




January 16, 2011 at 21:42







January 16, 2011 at 13:16










January 16, 2011 at 12:33




January 16, 2011 at 11:55




January 16, 2011 at 11:51




January 16, 2011 at 11:02










January 16, 2011 at 11:23










January 16, 2011 at 12:31










January 16, 2011 at 15:15










January 16, 2011 at 17:37







January 16, 2011 at 22:37




January 16, 2011 at 10:45




January 16, 2011 at 10:10







January 16, 2011 at 10:11










January 16, 2011 at 23:26







January 16, 2011 at 13:04







January 16, 2011 at 09:35










January 16, 2011 at 15:58




January 16, 2011 at 09:08