Unrealistic Expectations.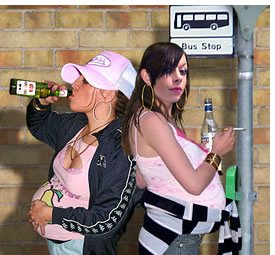 If you are the manufacturer of a product – say, for arguments sake, to forecast the weather – and claimed 99% accuracy, then after selling 1,000,000 examples of your product, you would be exceptionally pleased to find that your product had only failed to successfully forecast the weather in 594 cases rather than the expected 1% or 10,000 cases, would you not? You might even think that you would generate some positive headlines – "weather forecasters achieve incredible 99.4% accuracy" – or something along those lines followed by a resulting boost to your sales.
Not if you are the manufacturer of an 'emotive product'.
Implanon invented a synthetic progesterone implant which could be inserted under the skin and claimed a 99% success rate in stopping pregnancies for up to three years at a time. No more 'remembering to take the pill', no more 'self denial' if you didn't want to get pregnant. No need to take responsibility for yourself – the government would inject you with an implant and you needn't give the matter another thought…..
This week it was revealed that more than 500 women in the UK fell pregnant when they thought they were 99% safe. They were using a hormone-releasing contraceptive implant, which should have given them no cause for anxiety for three years at a time.
Lo, they were '99%' safe, in fact, better than 99% safe, but that has turned into thoroughly negative headlines for the manufacturers. Those '500 women' were over a ten year period, I don't suppose they were thrilled to find themselves the lucky winners of the 1% failure rate, since they presumably didn't want children at that time, but it is hardly a failure on the part of the manufacturers.
The apparent failure of Implanon, until last October the only contraceptive implant available in the UK, is a blow to family-planning advisers and campaigners.
In Australia, where a survey was carried out of a similar product, 200 pregnancies were said to have occurred using Implanon – of which a quarter of the women were found to have already been pregnant when the device was fitted, and 127 of them had had the device fitted incorrectly. Neither situation should result in bad publicity for the manufacturer.
Ex-Public Heath Minister Gillian Merron is derided for having 'talked up' the product when it was announced that the government was investing £20.5m in a scheme to give the implant to young girls and reduce the horrendously high rate of teenage pregnancies.
Regarding the failure rate when the implant is incorrectly fitted – this is apparently because "not all [nurses and Doctors] have taken the time or the trouble to get trained" – an entirely negative attitude in itself.
Doctors in Bradford have warned of the dangers of women panicking and stopping using the device as a result of these negative press reports – I am interested in why this story has been so negatively reported, what is the agenda here?
Why wasn't this an "Implanon turned out to be even more successful than claimed" story?
January 13, 2011 at 21:39




January 12, 2011 at 22:18







January 12, 2011 at 22:54




January 12, 2011 at 16:07




January 12, 2011 at 13:58







January 12, 2011 at 13:56







January 12, 2011 at 13:50







January 12, 2011 at 14:00




January 12, 2011 at 12:20







January 12, 2011 at 12:52







January 12, 2011 at 13:52







January 12, 2011 at 20:07