Second hand Brussels Sprouts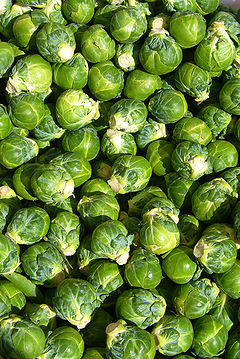 No, I'm not selling used Brussels Sprouts, I'm talking about second hand, third hand, and fourth hand second cigarette smoke.
It's not just the UK which has banned smoking in enclosed spaces. Ireland started it. Spain is now doing it. And now Bhutan is going to the nth degree in banning it. Soon everyone will be at it. The state is banning a legal product just because they've been persuded by people with ulterior motives who simply don't like smokers. Or anyone who is enjoying themselves as drinkers are next in the firing line.
I suspect given a chance they would like to ban Brussels Sprouts next. For those who like them it's a pleasure to eat but there are side effects just like second hand smoke, though the smell comes from a different orifice.
The whole point of banning smoking is not to make people healthier. That's what you might think it is, but it's not. It's only a cover. It's like the whole point of speed cameras is to slow people down, but it isn't as has been shown recently with the case of Michael Thompson getting a criminal record for indicating to other drives about the presence of a speed trap. The real reason bans are in place is to impose the will of one group over another. It's a battle for a perceived moral high ground and they will use any method to win even when they are shown that their arguments no scientific basis in fact.
As an example of the lack of science, smoking is banned around playgrounds in certain localities because of the harm that second hand smoke in the atmosphere can cause to young children's lungs. The fact that these playgrounds are next to roads full of cars emitting noxious fumes from their exhausts is totally ignored as they play up the fact that cigarette smoke from 100m away can cause cancer.
Or when they tire of false science they resort to typical Fabian stateist methods of control. That is the control of your private life even when they aren't anywhere near – just because they can't countenance the fact that some people enjoy things that harm them and could potentially affect someone else in a minor way. I wonder when they are going tell base jumpers off (polite words for banning and putting in prison anyone who performs it) because of the number who die from enjoying themselves doing it and who could potentially give someone a heart attack when they see them jumping off a building.
And not forgetting the emotional weapon when they use stories of famous people who have died of lung cancer claiming that they died due to second hand smoke. An example being Roy Castle who self diagnosed his cancer as being due to smoke from when he performed his shows. There has been no proof produced to show this was the case. In actual fact Roy was known to smoke the odd cigar and admitted that he had not smoked a cigarette for 25 years prior to his cancer. Theatrical special effects are just as likely to have caused his cancer as in the past they used highly carcogenic materials to produce effects like fog and dust. His genes are another potential source of his cancer and it might have been nothing to do with cigaratte smoke at all.
So I ask those who don't like cigarette smoke and complain loudly that they have to suffer by walking through it at entraces to office blocks, do you still go to the now empty and rapidly closing down pubs? Look honestly at your own lifestyle and does any of it interfere with another person's or is something that someone hates. For instance do you have noisy unruly kids, enjoy loud music, have messy front gardens, enjoy blood sports, etc. In a free and open society everyone has to accept that life is not perfect and centered around themselves. Everyone affects everyone else in some way. If you insist that someone stops a certain activity that you hate be prepared for them to respond and force you to stop doing something you like just for the simple reason that they don't like your particular vice. Either we have the situation where nothing is allowed because it could potentially upset someone somewhere sometime or we allow everything to happen and just learn to live with it.
Declaration of interst: I don't smoke, I hate going into smoky pubs and clubs so I don't or go to other places, but I feel it important to allow people to do what they want to do so long as I can avoid them by choice and they have a choice as to where they can smoke. That's because I understand that if one group is controlled, it becomes easier to control another group. The ban is not appropriate because it doesn't give smokers a choice so it's not fair.
SBML
January 6, 2011 at 22:13










January 6, 2011 at 22:31







January 7, 2011 at 00:01







January 6, 2011 at 20:18




January 6, 2011 at 16:19







January 6, 2011 at 20:06




January 6, 2011 at 14:45







January 6, 2011 at 13:02




January 6, 2011 at 12:36







January 6, 2011 at 12:14







January 6, 2011 at 13:59







January 6, 2011 at 17:16