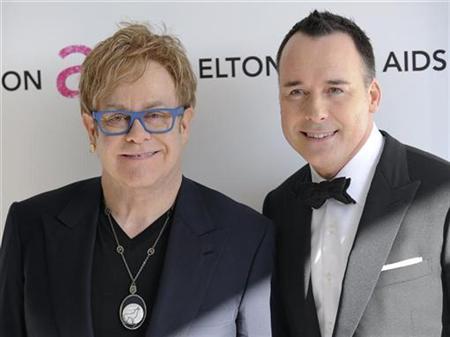 He was born a pauper to a pawn on a Christmas day
When the New York Times said God is dead
And the war's begun
Alvin Tostig has a son today
And he shall be Levon
And he shall be a good man
And he shall be Levon
In tradition with the family plan
Levon by Elton John and Bernie Taupin.
Elton John and his partner have become the proud parents of a son born to a surrogate in California on Christmas Day.
The boy, named Zachary Jackson Levon Furnish-John, is the first for the rock star and Canadian filmmaker David Furnish, who have been together since the early 1990s.
"We are overwhelmed with happiness and joy at this very special moment, Zachary is healthy and doing really well, and we are very proud and happy parents."
The magazine said the boy weighed 7 pounds, 15 ounces, and it quoted a representative for the 63-year-old musician as saying that no further details about the surrogacy arrangement would be disclosed.
The pair, who entered into a civil union in 2005, tried to adopt an AIDS-infected orphan in Ukraine last year, but were thwarted by government regulations.
Poor Levon. His Mother's a Pawn and his Fathers'……..
Some Kids have all the luck.



December 28, 2010 at 22:53







December 28, 2010 at 21:38









December 28, 2010 at 20:41