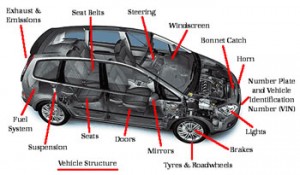 The MOT test is to be changed in the new year. The government has also announced that it will review the MOT test. They will look into the initial exemption period, the testing frequency, and what the test covers.
The Retail Motor Industry Federation has stated that if the changes moved to the European levels that 400 people would die each year and that 40,000 people would lose their jobs and that it would cost the UK economy billions. A better example of shroud waving I haven't seen.
Most European countries test their cars after it is four years old and then test bi-annually. This being the minimum frequency. but there is no standard European test, just some minimum requirements. The UK likes to boast that its MOT test is the best in the world in that it is the most comprehensive. The UK's testing frequency more frequent than the the European minimum being done after a car is three years old and performed annually. Though there are some critics of the UK test in that it has a number of loopholes such in tyre pressure where a car will pass even when all four tyres have 50% pressure. Comparisons with other European car testers show that the UK is not necessarily the best, for example in training. The UK has a two day training course whilst Germany has a full year course for testers. The UK's annual testing sounds like it's better, but when the UK's tyre limit is 1.6mm whilst Germany's TUV system says is must be 2.4mm.
The Institue of Advanced Motorists wonders if the UK's more stringent testing environment is worthwhile. It costs the UK motorist £465m/year for the gold plated UK testing version. The UK's failure rate of three year old cars at 21% (2007) sounds high compared to the other European countries such as France 5.61 per cent, Switzerland 17.5 per cent, Norway 19.9 per cent, Germany 4.8 per cent and Austria 10 per cent. You would think that such a high failure rate demands that a more stringent testing regime be put in place if UK motorists are so bad at looking after their cars and their safety. But then when you consider that a failure can be due to a blown light bulb you can see that the bare figure hides a multitude of sins. For instance the UK system of allowing garages to test cars as well as fix them can easily lead to false positives where the garage can make money out of the test and the unnecessary fix. Other countries require the testing and fixing to be done at two different garages. Our system is more convenient but is also more open to abuse.
As an example of gold plating and unnecessary bureaucracy of EU regulation by the UK civil service, witness the latest changes. The EU regulation states that where chipping of engine management units is illegal, it should become a failure case. In the UK chipping isn't illegal (yet), but before the law has even changed to make it illegal VOSA are already stating that the MOT will fail such case. Even before they have worked out how it's going to be done as an ECU can be chipped without any visible signs of modification. Such checks would require expensive equipment for each make of car at every single testing station and would make MOTs even more expensive for no real benefit. Other examples of VOSA over regulation includes the case where they stated that number plates without a postcode would be a failure case little realising that 99% of cars would fail the moment they brought in the change. This was quickly fixed.
First-time MoT failure rates (2007)
In 2007, 21.6 per cent (580,754) of three-year old cars failed their first test. Among 836,646 individual failure faults, the top 10 were:
| | |
| --- | --- |
| Lighting and signalling | 271567 |
| Tyres and wheels | 155489 |
| Drivers view of the road (Cracked/chipped windscreens, other obstructions) | 120095 |
| Brakes | 110327 |
| Steering and suspension | 99798 |
| Fuel and emissions | 23634 |
| Reg plates and VIN (vehicle identification number) | 19047 |
| Seatbelts | 11271 |
| Body and structure | 7705 |
| Road wheels (loose, missing wheel nuts etc) | 5746 |
Source: VOSA
PS. If you take you car to a MOT test centre and it fails it is recorded immediately as a failure so you can only drive it home (or to a garage for fixing) even if you have days before the end of the month. So if you drive around after failing a test and get caught by an ANPR camera (and you don't need to be speeding to have your details recorded) you will get a fine.
SBML



December 9, 2010 at 18:10




December 8, 2010 at 13:20










December 8, 2010 at 15:01




December 8, 2010 at 11:13







December 8, 2010 at 10:06




December 7, 2010 at 18:14




December 7, 2010 at 17:49




December 7, 2010 at 15:53







December 7, 2010 at 16:18










December 7, 2010 at 18:17







December 7, 2010 at 18:18







December 9, 2010 at
18:05


December 7, 2010 at 13:22




December 7, 2010 at 13:01










December 7, 2010 at 12:47




December 7, 2010 at 12:24