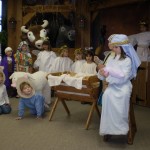 Christopher Graham, the Information Commissioner, says that taking pictures of children at nativity plays is not against the Data Protection Act. Thank god someone has seen some common sense. However the DPA is not the reason that most schools raise when they attempt to stop proud parents taking pictures of the children at key moments in their lives.
Sometimes they use the police to stop the parent taking pictures. Most of the time they trot out the excuse that paedophiles are scouring Facebook and newspapers for such photos and videos. Or if that doesn't work that abusive parents are scouring Facebook and newspapers for photos of their children and working out which school their children go to – as if they didn't know already. When really pushed they will allow pictures to be taken of the children but will blank out the faces of children. When all fails they can always fall back on the point that a school is not a public place and so they can impose whatever rules they like.
The ones who need a good dose of common sense are the head teachers at schools who are more interested in covering their arses and following procedures laid down by the local authority than actually teaching children and letting children enjoy being a child.
When you have schools banning parents from taking pictures of their own children it reinforces the meme that authority knows best, that parents must bow before the superior knowledge of those in charge and that the parents can rescind their responsibilities to the school safe in the knowledge that their children are in safe hands.
Those in authority will say that they know best because of a few bad cases where a parent hasn't looked after their child properly and use these to show how important it is that they take over responsibility. Other than the old adage that bad cases make bad law, there is the case that these cases are the extreme and not the norm. The vast majority of parents do look after their children, they might not be perfect but their children do grow up to be pretty reasonable adults. The majority of children brought up in care do not turn out to be pretty reasonable adults even with the immense skills of the professionals. That's usually because the children have been handed from professional to professional who just sees them as another case and not a person who just needs some love.
SBML
.
.
.
Please read this earlier article here on Anna Raccoon and sign the petition if you haven't already and blog, tweet about it. Join the Facebook group here.