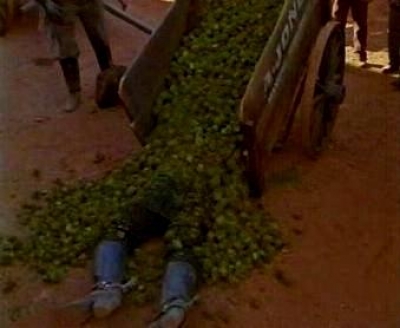 I am always staggered by how unaware people are of what is going on around them and the forces of nature that just might jump up and bite them.
Is this because somebody can be sued, held responsible or jump up and protect them from their own stupidity.
Not too far away from me is a branch of Tescos with a large mini roundabout in front of it.  I need to turn right at the roundabout to get into a small industrial estate. I now slow down to an absolute crawl negotiating this roundabout junction with headlights on full beam indicating right, because everytime Mr & Mrs Everidge exiting Tescos, indicate look at you full in the face and pull straight out creating a near miss.
I have now created a new rule of the the Highway Code.
3(d)  When exiting a branch of Tescos, remember the following rule-
1.  Light fag
2.  Approach junction without decrease in speed
3. Stare blankly at oncoming traffic
4. Pull straight out
5. Check rear view mirror to ascertain what the squeal of brakes was
6.  Check what direction the effing and blinding is coming from.
Seen yesterday in Bristol whilst wearing fur hat, overcoat and scarf, two lads in t shirts and a young lass tottering on the Ice in high heeled shoes, skimpy dress and mottled red raw bare legs trying to deciding whether to walk home and get some more tinnies, or use the money for a taxi. Two guesses which option they took.
I am still rolling around laughing after two hours because I now know there is a God and she believes in terrible retribution.
There is a large nursing home opposie and everyday for months without fail a woman in a little blue car block s my exit. Despite being asked nicely, not nicely and plastering the car with notes 'Pleeeeeeeeease stop blocking my exit'.
The retribution started about 12 noon. I noticed as I was about to go out that there was a pronounced bulge in the middle of the road that was seeping water that was freezing before it hit the kerb.
A quick look and clearly a pipe had burst underground. Quick call to the water chaps, we will be straight out. Good.
Went for a coffee in town, came back. Water chaps had arrived. So had the stink. It was not a water mains, the high pressure sewage pipe that had failed. Stood with the water chap as he called the sewage chap.
Little blue car appears, parks across my drive as usual, but this time on top of of the vile smell of a  rapidly bubbling hole. Said woman, did not smell the smell, see the bubbling freezing deep yellow brown liquid or the hole.
Stepped out of the car, legs skidded from under her landing on her back in the mire. Then the main gaveout spraying both her car and her with liquid crap.
I am sorry I am still laughing and tears rolling down my face as I type.
God is great and she is just !
JuliaM
December 2, 2010 at 17:04

Caedmon's Cat
December 2, 2010 at 17:22

JohnRS
December 2, 2010 at 17:39

Longrider
December 2, 2010 at 17:43

AnnaNonAMouse
December 2, 2010 at 17:50

Dick Puddlecote
December 2, 2010 at 17:50

microdave
December 2, 2010 at 17:56

The Cowboy Online
December 2, 2010 at 18:19

Ian R Thorpe
December 2, 2010 at 18:31

Joe Public
December 2, 2010 at 19:09

Ed
December 2, 2010 at 19:46

JuliaM
December 2, 2010 at 21:12

Eleanor
December 2, 2010 at 21:29

electro-kevin
December 2, 2010 at 22:36

SadButMadLad
December 2, 2010 at 22:46

PT
December 3, 2010 at 12:24

Kingbingo
December 6, 2010 at 18:49

zaphod
December 4, 2010 at 02:30

PJH
December 4, 2010 at 20:06