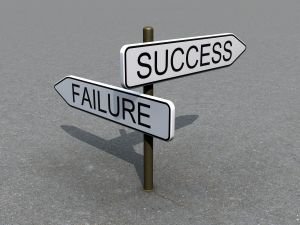 "I have not failed. I've just found 10,000 ways that won't work." – Thomas Edison
All around you people are striving to avoid failure. In all walks of life failure is seen as a bad thing. To be progressive you have to take the option of failure away from everyone. Therefore when no one fails everyone wins. The progressive thing to do is to ensure that all tests are set in such a way that no one actually fails the test. It's also right and proper that everyone should be given the answer so that they don't fail in trying to work out the answer for themselves. To stop people from failing committees are set up so that no one person can take the blame for the failure. Decisions are deferred higher up the chain to the point where the person making the decision can't be fired, or deferred sideways to a consultant. In an ideal world the system is set up such that no one person can actually make a decision.
But this is all wrong. Failure is actually a good thing. You learn from your mistakes. The whole of humanity has been built on failure. Look at how a child learns to walk. They bang into things or fall on their bums. But every fall is a learning process as they learn from each grab for support about identifying distance.
Failure is useful as a research tool. Look at all the exceptionally beautiful bridges now being built. They are built because in the past other bridges failed. Many times. Each time engineers look at why the bridge failed and learn from it and understand how to make better and bigger and stronger bridges. Engineers thought they knew everything when they built the Tacoma Narrows bridge, but they hadn't taken into account airflow. But now the tall Millau Bridge in southern France and the long Stone Cutter bridge in Hong Kong have been built and will stand for a long time [fx: x fingers].
Being allowed to fail is good. Take Lego. In days of yore you would buy Lego in buckets full of Lego bricks. Today you will find most (but thankfully not all) Lego comes in a kit where you have the pieces to make a specific thing, no more no less. You followed the instructions and built the object, but you couldn't try different designs. Kids aren't encouraged to use their creativity, instead the whole creative process is short circuited. It is still possible to use Lego in creative ways as the specialist kits can be combined but it's an expensive way to go about it.
Whilst you shouldn't actually strive for failure, you should be able to use your failures to learn from.
Finally a quote nicked from the web:
People who try to do something and fail are infinitely better than those who try to do nothing and succeed. Experiencing failure is inevitable on your journey to be successful. Each defeat is merely an installment to victory.

You'll find that the number of times you succeed is in direct proportion to the number of times you fail and keep trying. You won't be judged by the number of times you fail, but by the number of times you succeed.

Failure is nothing but education, nothing but the first step to something better. You can't be a winner and be afraid to lose.
So go ahead, make a mishtake today, it's good for you.
November 23, 2010 at 20:11




November 22, 2010 at 17:21










November 22, 2010 at 18:34







November 22, 2010 at 13:31










November 22, 2010 at 19:35




November 22, 2010 at 13:23




November 22, 2010 at 11:38







November 22, 2010 at 13:17







November 22, 2010 at 10:34







November 22, 2010 at 10:33




November 22, 2010 at 09:50







November 22, 2010 at 09:42




November 22, 2010 at 09:27







November 22, 2010 at 09:06