Have Faith in the Fridge!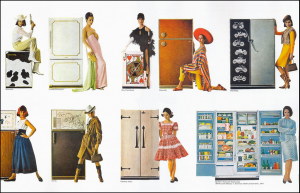 In the light of Anna's recent piece "On Arriving at Libertariansm from a Quaker point of view," this week I was prompted to reflect on the nature of faith.
About ten years ago I decamped on holiday with an appropriate selection of books. One of these was entitled "Around Ireland With A Fridge" by comedian, raconteur and writer Tony Hawks. Mr Hawks seems an urbane, intelligent and generally quite decent chap, and he is also the last person to literally cause me to cry with laughter, by dint of one of his guest appearances on "I'm Sorry I Haven't a Clue." His rendition of The Smith's "Girlfriend in a coma" to the tune of "Tiptoe through the tulips" was rather wonderful.
The premise of his book was quite simple. In a rather drunken conversation with a pal, Hawks had been bet £100 that he wouldn't, or couldn't, hitchhike around Ireland. With a fridge.
Hawks took his friend up on the bet. He duly purchased a fridge (a sort of half fridge, really not a full fridge freezer version but still a hefty thing) for £125, thus immediately losing money. He made a little wheelie trolley for his companion, and headed off to Ireland. He parked himself by the side of the road and, well, waited for a lift.
Hawks' book simply recounts the comic mishaps and adventures of the trip (of which there were many) in a charming, easy style. The book became a minor best seller. Of course, it may be that he selected the venue for his refridgeratory Odyssey with either luck or astute insight. The concept of a man hitchhiking around the country with a fridge for a bet on which he had already lost money seems to have appealed to the quirky Irish sensibility, and Hawks found that many people went out of their way to lend help and support, as well as a few pints.
What has any of this got to do with faith?
I listened to an interview that Mr Hawks did this week, which if anyone is interested, can be found here. http://www.bbc.co.uk/programmes/b00vw20x
He explained how at points of the journey people would observe that the prospects of success seemed a bit remote. For example, would he find somewhere to stay if he got wherever his unpredictable travels took him at the end of the day? And what if people weren't travelling his way – at least not ones willing to pick up a hitchhiker with a fridge? Purely out of fun, he adopted a standard response: "Don't worry – have faith in the fridge!" And things did indeed work out in the end.
Now there is a film of the book. Not a big budget affair, I think, but it looks amusing. Mr Hawks has been attending screenings of the film, holding what I believe are called "Q & A" sessions. Together with the fridge, of course.
And the magic of the fridge has spread. The film has become something of cult hit in America, and is being hailed as a sort of parable about faith in general.
In the interview, Hawks explained that the journey changed him for the better. He found people more generous and helpful than he expected. And that given a bit of work – and maybe that positive feeling that things will come right in the end – things really did start to work out in unexpected and wonderful ways. Hawks was keen to point out that he did not really attribute Divine Powers to his white goods companion, but I think he did tentatively suggest that somehow "the joke" became a little less of a joke as the trip wore on, and that somehow faith – or the invocation of faith – seemed to oil the wheels of his progress. He had taken that positive experience to heart and now tended to expect the best of people and situations, not the worst. He has, as it were, a mental fridge with him.
The elements of Mr Hawks' adventure seem to me to be a defined goal, a complete commitment to it, but with an added, extra ingredient. A positive mental approach, or a belief that things will work out. Faith.
Faith in what?
Faith in yourself? Faith in your abilities? Faith in God? Faith in the infinite ability of the Universe to provide?
Faith in the fridge?
Perhaps it doesn't matter how you go about having "faith", or how you get there. Perhaps it is that you simply have it, whatever it is, and however it is defined.
Sister Eva Longoria
November 21, 2010 at 23:01




November 21, 2010 at 21:42




November 21, 2010 at 21:34




November 21, 2010 at 21:00







November 21, 2010 at 21:02










November 21, 2010 at 22:14




November 21, 2010 at 22:27










November 22, 2010 at 09:07




November 21, 2010 at 19:51




November 21, 2010 at 19:01




November 21, 2010 at 17:41







November 21, 2010 at 17:05