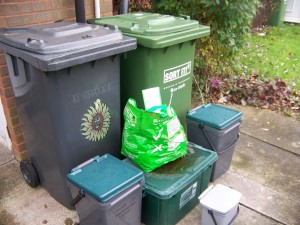 Once upon a time… I had a dustbin. An old-fashioned affair, with a rounded galvanised metal lid atop a rounded galvanised metal body, and a handle on either side. Into this dustbin went the ashes from the fire, the leftover food, the potato peelings and egg shells. Living on my own, it was only half full when the bin-men came round every week. It was kept out the back, and had to be carried through my flat to the front path, where one of the men would lift it easily, hoisted it onto his shoulder and heave the contents into the bin van.
Then the local council, in their vast and Holy wisdom, decreed my bin should be replaced by a black plastic wheelie bin twice the size. They spent a few million quid on the new bins, and a few million more on new sooper-dooper mechanised vans, which didn't require hoisting and heaving any longer, and what is more, could block the local roads much more efficiently.
From now on, collections would be only once a fortnight rather than weekly. This was to improve the service. Our council tax would now increase, to recover the costs of the improved service. The council leader received an OBE and a guaranteed pension.
The new improved, family-sized wheelie bin was too large to keep at the back, and I could no longer carry its weight through the flat, so it had to be permanently stored at the front, along with the bin belonging to the lady upstairs, where they disfigured the view.
Some time later, another wheelie bin appeared on our doorsteps. Green this time. This was to put garden waste and cardboard in, the council explained in an attached threatening letter, talking of fines for putting the bins out at the wrong time, in the wrong place, or mixing one type of waste with another. Every dwelling in the street got one, including all the upstairs flats who had no gardens. So now my flat had four bins outside — two for me and two for 'er upstairs. Shares in wheelie-bin makers shot through the roof, and our council tax increased again.
Then a small plastic box was dumped on us, for glass jars, bottles etc. Plus a permanent green fabric bag for newspapers, junk mail etc. The things were multiplying faster than streptomycin. Now there were six bins and two bags of assorted sizes for visitors to see when they called.
Today, a quantum leap occurred. In addition to the aforementioned lot, I now possess a grey food-waste bin, and a white bag for plastic bottles (to be washed, rinsed and separated from their tops on pain of death!)
Collections are now to be separated into Black Weeks and Green Weeks, says a leaflet issued by Councillor Heather something-or-other, who looks as if she lives on suet. There is no swaztika on her arm, but somehow you get the impression of Herr Flick in disguise.)
"In Black veeks, you vill put out ze grey food bin, ze white plastic bottle bags, und ze black veelie-bins! Zey vill be put out before 7.00 am! Do not mix up your vaste, or it vill be ze vorse for you."
So says the lady Gauleiter — sorry! — Councillor. In Green weeks, she demands we put out the grey food-bins, the green glass-bottle box, the green newspaper bag, the green wheelie bin, and cardboard that has been flattened and placed under the food-waste bin. Oh — and a partridge in a pear tree.
Her leaflet does not say what will happen if the Wheelie-bin Police catches me out in an infringement. A week in the cooler, perhaps.
Or perhaps they will shoot one in ten of us, as an example to the others.
November 23, 2010 at 12:18







November 22, 2010 at 22:22










November 22, 2010 at 19:23







November 22, 2010 at 18:51




November 22, 2010 at 17:51







November 23, 2010 at 22:31




November 22, 2010 at 17:40




November 22, 2010 at 17:19









November 22, 2010 at 16:07