The Right to Hate! The Right to Bluddy Hate? A Riposte from Anna!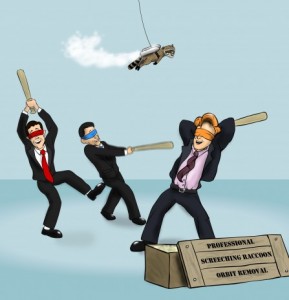 This harness is uncomfortable – but necessary. I have had to be tethered to the ground this morning for fear that I might blast off into cyberspace – 3,000 feet and rising! Mr G, ever the practical man, feared the non-appearance of his dinner tonight….
The Right to Hate! The Right to Bluddy Hate? Who, in God's name, has infringed your right to hate? You are free to hate anyone and anything you wish to. Hatred is a corrosive and non-productive activity best left to the brain dead, but if you wish to indulge – feel free, no one is stopping you 'hating'.
But of course, you don't actually mean the right to hate at all, do you? You are playing a deceitful game of semantics.
You mean Expressing The Right to Hate in the Form of Issuing Verbal Threats.
That is a completely different thing, and something that many people are against, but you turn your wish into 'The Right to Hate' and complain that a perfectly reasonable emotion is being denied to you. Classic tactics.
I dislike Yasmin Alibhai-Brown intensely. She winds me up. She whinges. She retreats behind her Muslim identity at the first sign of trouble. I am no fan of hers. I don't support her retreat into a police complaint after Gareth Compton's incitement to violence – but only because I believe it to be a waste of time that will only succeed in bringing out a crowd of knee jerk responses from people who claim that their 'right to free speech' is being denied them.
I sympathise with her reasons for that complaint totally. Utterly.
The blogosphere, for all its loud mouthed assertions that it embraces equality, makes the same mistake as the feminist movement. It simply ignores the biological evidence that men and women are different. They react to things differently, according to their levels of testosterone and oestrogen. You can try all you want to convince yourself that we are all just fingers on keyboards, but it is emotions that drive those fingers across those keyboards – and those emotions are not all equal.
Those with a high level of testosterone will feel comfortable with violence; they are capable of instigating it, replying to it, counter-acting it. Those without, will not. That simple fact will inevitably result in them becoming the victims of violence.
In the real world, the majority of women do have a low level of testosterone – notwithstanding that it rises as we grow older. I may turn into Mack the Knife yet. Sure, you can all point to the odd example that counteracts this generalisation. The battered husband, the female Mossad agent who would terrify Genghis Khan, the foul mouthed female Twitterer – but they are the exceptions.
Most women fear violence because they invariably have no physical choice other than to bow down before it.
That is why we have rape laws – or do you disagree with them too? Perhaps you think your testosterone should be free to express itself physically as well as verbally, however you damn well please? Or would you be horrified at that idea? Is it just behind an anonymous keyboard that it should be socially acceptable for you to issue your threats to those you hate rather than those you lust after?
Nor is it merely women who fear violence, whether physical or verbal. Many men are uncomfortable with it too. I suspect that some men embrace the Blogosphere precisely because in real life they are timid and unassuming, unable to physically joust with their fellow men in time honoured manner, but given a cloak of anonymity in the Blogosphere they can appear to be fearless Titans.
I started this blog because I believed, albeit from a Quaker vantage point, in the Libertarian movement. I had read of the Libertarian ideals extensively in the US, and they seemed to reflect my own beliefs in personal responsibility. I looked around the Blogosphere, expecting to find similar web sites in the UK. I discovered a collection of men 'expressing their rage'. Swearing, ranting, and obsessed with homosexuality and lewd comments regarding female politicians. You could practically feel the vibrations as they beat their chests. Ooh! Ooh! Ooh! What big boys you are with your smallholdings and shotguns and 'I can say anything I ***ing well want to' hiding behind your usernames.
I'm not particularly knocking the ranty-sweary blogs, I can understand the need to let off steam in a society which has endured 13 years of Totalitarian control – I do question how much good it is intended to achieve, beyond a simple egotistical sense of relief. Particularly from the blogs that lie on the outer edge of Anarchic beliefs. You are complaining that you are being 'forced' to behave in a certain way – so you want to smash up society and force it to behave in another way? A fine Oxymoron if ever I read one.
A number of Libertarian blogs have packed up recently – as did I, albeit for different reasons. Some of them claim that they have 'lost the rage', some that they have 'got a good job' and cannot 'put it at risk' by blogging. That sounds suspiciously to me as though the only reason you were availing yourself of the finest advance in human communication was to use the keyboard equivalent of the back of the bike sheds, where little boys once gathered to assuage the rising hormones with a sneaky fag, a smutty conversation, a shared sexual revelation. Sheesh! Shame on you – and there was me thinking you wanted to help effect political change in the UK – but you can't have done, you just wanted to let off steam.
You will never effect political change in the UK – or anywhere else – by alienating half of the voting public – women. Nor by turning your vehicle for change, the blogosphere, into a highly charged testosterone heavy environment, where people have to be prepared to receive death threats if you disagree with them, regardless of whether they are male or female.
I want to see Libertarian responses to the present government. Shouting at them from behind a keyboard is like taking an eyedropper to empty the ocean.
I want to see Libertarian blogs taking up the baton dropped by the main stream media. Saddleworth News is an excellent example, positively the best in depth reporting of the Phil Woolas scandal – and not a swear word in sight. I have no idea if he is a Libertarian, but that is what we should be modelling ourselves on, not screaming for the right to issue death threats to some daft MSM journalist. Libertarian blogs highlighting local injustices where people can step in to help make the government irrelevant. What I termed the 'Blog Society'. Let government intervention wither and die. There is more than one way to skin a cat.
You all live in communities surrounded by real people, real injustices. Blog about them, invoke the community spirit of the Blogosphere, harness the expertise and energy of all those readers – do something practical with it; don't waste it on futile demands to be allowed to issue death threats to those you don't agree with.
That is precisely as futile as Yasmin believing that recourse to criminal law will ever stop people hating her. There is a difference between hating her and publicly calling for her death though.
*Dons tin hat and goes for long walk beside calm and tranquil river*.
November 15, 2010 at 23:57










November 15, 2010 at 20:50







November 15, 2010 at 20:25







November 15, 2010 at 17:03







November 15, 2010 at 16:52










November 15, 2010 at 16:45










November 15, 2010 at 15:13




November 15, 2010 at 14:51







November 15, 2010 at 14:49












November 15, 2010 at 14:43







November 15, 2010 at 14:32