Free parking & Supermarkets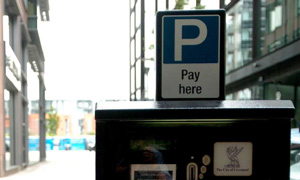 An open question to anyone about having to pay for parking on the road. Why do we have to a pay?
We already pay road tax for the upkeep of roads, even though only a small proportion of it is actually spent on the roads and other transport infrastructure. So why are drivers having to pay another "tax" on top for the privilege of parking on the road.
Paying for parking on private land (eg. NCP) or in public car parks is different. There the charges help to pay for the upkeep of the site and the wages of the parking attendants.
But paying to park on the road? It just does not make sense. The only reason it exists is so that a council can collect money. A tax in effect.
It can't be to dissuade people from parking otherwise it would be a fine. Fines for parking on double yellow lines are different to parking charges. It can't be to ensure that drivers only park for as long as they need to and no longer. That would happen only if the person didn't need to use their car anymore. The whole point about parking on the road is that the person has come to carry out a time limited task of some sort – shopping, visiting the dentist, going to the bank, etc.
Does paying provide any benefit? Does it mean more people can park? Nope, there are only so many parking places. Does it allow the council to use the money to improve the local environment (better roads, better lighting, better signs, etc.)? Nope, it only goes to pay for parking attendants to go around slapping parking fines on drivers.
So why do we have to pay? Because the state tell us we have to pay and invents laws to fine us when we don't – that why. Can we get the state to change their mind? Nope, because democracy doesn't work. We don't vote for our elected officials on the basis of small issues such as this. We vote on tribal lines. So we are effectively stuck with this stupid situation until the revolution comes. Or until an elected official gets off their arse and realises that they should be doing stuff for their community, not for their own political ends.
Removing parking charges would be a huge benefit to local communities. It would increase the footfall in local markets/shops because people would not have to pay £1 minimum (for example) just to spend 5 mins popping into a shop. An increase in business' profits would mean that more businesses would be attracted to the area, meaning more employment, meaning more stuff to buy and generally making the area more attractive. So parking on the road should be free and parking in public car parks should be free for an initial short period (15 mins) of time.
Going off at a tangent, but that's one reason why supermarkets are so attractive – they have free parking. How many of you go to a supermarket to buy a few items rather than go to their local market to do the same? Think about why you do it. Do you do it because you can drive and park for free or because the prices are cheaper in the supermarket? Do you still do it when the market is closer?
In my local town, there are currently two supermarkets and a good local market. There are plans to open up two new supermarkets and obviously the traders in the local market are up in arms about it with petitions being filled in. The supermarkets counter by saying that customers can use their car parks for free and do some shopping in the supermarket and some shopping in the local market. A tacit acknowledgement that free parking is one of the main reasons why people use supermarkets. But how many customers will do some of their shopping in a supermarket and then pop to the butcher in the local market. None, because unless the butcher's prices were very low compared to the supermarket there would be no reason to do so. So the supermarket wins and the local shopkeepers have to go out of business. Some would say this is just standard market driven competition. But is the competition fair? I don't think so, and not just because of the supermarket's immense buying power. The supermarkets can control what parking charges are for their shoppers and they make it free to encourage more shoppers to visit. Local shop keepers and markets don't have the same control about the parking charges in their area so are at a disadvantage straight away.
So to reiterate, parking on the road should be free and parking in public car parks should be free for an initial short period (15 mins) of time. This provides a level playing field.
[Orginaly published on a-nest-of-procyon-lotor]
Parking related link: www.telegraph.co.uk/motoring/news/8087984/50-years-of-traffic-wardens.html
November 1, 2010 at 12:27







November 1, 2010 at 10:27




November 1, 2010 at 09:58







October 31, 2010 at 20:23







November 1, 2010 at 05:33




October 31, 2010 at 20:20







October 31, 2010 at 16:38







October 31, 2010 at 13:48