MP in Rugby Player's Dressing Room Shock.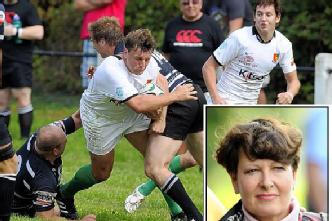 An easy mistake to make.
Burly half naked Rugby players milled around the dressing room in confusion.
The Newton Abbot team manager did his best to instil order. One player appeared to be missing.
The –ahem! – impressive physique of Tory MP Ms Anne-Marie Morris hove into view.
"A woman came up to me and said 'where would you like me' or words to that effect, and I just presumed she was the physio," said MacLean.
Ms Morris said the 'visit had been an eye opener' as she hadn't realised what the club did.
September 8, 2010 at 20:25




September 8, 2010 at 17:50










September 8, 2010 at 18:47




September 8, 2010 at 16:41










September 8, 2010 at 18:54







September 8, 2010 at 19:12




September 8, 2010 at 15:41




September 8, 2010 at 14:33










September 8, 2010 at 13:49







September 8, 2010 at 13:25