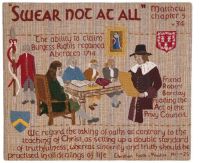 An exchange on a post I made yesterday has prompted my thoughts today. I had written of a girl who the police had been unable to convict of soliciting, and had instead chosen to obtain an ASBO, thus criminalising her attempts to earn a living by the perfectly legal method of prostitution.
Within minutes, posters had arrived who fully believed that being a prostitute meant that she was also living in subsidised housing – 'their taxes' – defrauding the taxman, not registered for VAT, and a variety of other offences, all based on the fact that she was a prostitute, therefore 'immoral' and that the police were doing a good thing in criminalising her by whatever means on account of her 'public lewdness' 'gross indecency' and last but not least, her offence of 'littering' – proven by the fact that condoms had been found in the area where she worked and 'obviously' they were not only 'her' condoms, but she was the one who had thrown them to the ground.
It seems to me that there is a new mood in the country, one which seeks to use the police, (and council officials, where they are empowered) to enforce 'morality'. I quoted a previous post concerning a girl who had been given an ASBO for trying to commit suicide. Suicide is also perfectly legal, but those who were offended by her repeated attempts to take her own life had resorted to the ASBO to enforce 'their' morality.
English Viking correctly points out that the law of the UK is in itself the formalisation of a moral code, but then goes on to tell me that the UK, in basing its laws and standards on the moral code outlined in the Bible is in some way superior to Islamic laws based on the Koran.
Here I have some difficulty. I cannot for the life of me see that any book written by a mere man (man in the generic sense!) can claim any superiority over another book. It is said that Islam is 'savage', based, I presume, on the oft quoted demand that the hand of a thief is removed – in what way is that more or less morally superior than the Bible's 'eye for an eye, tooth for a tooth'? Until relatively recently, in the UK we followed such teachings with the notion of a 'life for a life', and executed murderers.
How can the day in which you are exhorted to stop work and pray, or the manner in which you cover your head when doing so, or the name of the building in which you do so, or which food you eat or don't eat, possibly claim moral superiority? A few hundred years ago, Christians were cheerfully beheading Muslims and leaving their head on the petard on the basis of these tenets and a belief that God was on their side, now Muslims are fragmenting planes and all who travel in them out of the belief that covering their head with a burkha rather than a mantilla means God is on their side.
Society has been engaged in a constant battle to impose a particular morality on everyone else. The law in the UK – formalising the morality of the UK! – is currently engaged in preventing one group of people from drinking the fermented fruit of one plant, whilst smoking the dried leaf of another plant, in the same public building.
Another group – the ASBO demanders of Oxford, seek to prevent a woman having 'fleeting sex' in the back of a car being rewarded by pieces of paper which can allegedly be exchanged at the Bank of England for real gold. Meanwhile we are exhorted to feel pity for a married couple who live in the back of their car – and presumably have sex there. an act sanctified by the receipt of a piece of paper signed by a man allegedly on God's behalf. One can only presume from this that it is a combination of a man wearing his collar back to front 'sanctifying' the latter relationship by murmuring special words over the couple and the first couple having sufficiently valued sex to put a price on their fleeting encounter that leads to this outcome.
We have recently had the farcical situation whereby a British government official was seriously considering that it might be right and proper to be instrumental in withholding food and sustenance from the starving people of one African country because its rulers refused to sanctify a man entering the anus of another man with his penis – whereas they had no problem with him doing precisely the same thing to a woman. This is morality?
Before long we shall have the atheists printing their own book, designing their own hat and demanding that Thursdays everybody stops work and eats Tofu. Prostitutes and their customers can arrive at the atheist tower – perhaps the local fire brigade would donate their training tower, since a belfry or a minaret, or some such structure reaching to the sky appears to be an essential facet in dignifying this process – and intone three times 'let this grubby fumble last no longer than four minutes and no man deign to question the price' followed by the ritual inhaling of dried leaf and supping of dried hops in a building which has special dispensation from the state to house small quantities of same on the same premises.
Why don't we impose our own morality on ourselves instead of worrying about what everyone else is up to? What difference does it make to any of us – assuming that there is a God to answer to one day – whether Amy jumps off the end of Aberystwyth pier, or Nicola gets paid a tenner for her troubles? – I fancy God will be more interested in what we've been up to, and will expect Nicola and Amy to account for themselves.
It has been said that it is my Libertarian beliefs that cause me to defend Nicola, the prostitute. It is not. It is my Quaker belief that other people's morality is not my business. It is also my belief in law and order; we have a crime called soliciting, if you do not act in such a way that you can be charged with soliciting, then it is a dangerous business to use a catch all 'anti-social' charge to stop you doing that which 'offends' others. Before you know it, ASBOs will be used to stop you describing your religious beliefs on the Internet, or dressing in Goth clothing, or holding hands in public, or dressing your child in pink, or acting in a way which someone else believes is lewd and offensive – and then we will have a version of the religious police stalking these lands. The question is – whose religion will they be upholding? Yours – or one of the many competing religions?
Kind regards,
A Happy Quaker. No book, no tower, no hat, no 'middle man', can eat what I like; would probably suit most Libertarians.
Edited to add: My congratulations to English Viking – whilst we disagree, I admire his fortitude and skill in defending his beliefs on two separate threads at the same time for some 12 hours…….
August 16, 2010 at 22:15










August 17, 2010 at 17:42




August 16, 2010 at 19:18










August 16, 2010 at 19:37




August 16, 2010 at 11:01










August 16, 2010 at 15:44










August 16, 2010 at 15:48










August 16, 2010 at 18:48










August 16, 2010 at 19:22




August 16, 2010 at 19:31










August 16, 2010 at 20:49




August 16, 2010 at 22:07

August
17, 2010 at 07:05


August 17, 2010 at 17:39

August 15, 2010 at 23:58










August 16, 2010 at 16:59







August 16, 2010 at 21:08




August 16, 2010 at 21:06







August 16, 2010 at 21:10










August 16, 2010 at 21:13







August 16, 2010 at
22:42


August 17, 2010 at 17:16




August 15, 2010 at 23:35




August 15, 2010 at 23:33




August 15, 2010 at 23:25




August 15, 2010 at 22:48










August 15, 2010 at 23:09










August 15, 2010 at 23:22




August 16, 2010 at 00:30







August 15, 2010 at 22:31










August 15, 2010 at 22:25










August 15, 2010 at 23:21




August 15, 2010 at 23:34




August 15, 2010 at 22:06







August 15, 2010 at 21:30










August 15, 2010 at 22:01




August 15, 2010 at 22:44




August 15, 2010 at 20:13




August 15, 2010 at 18:19




August 15, 2010 at 17:56




August 15, 2010 at 17:28









August 15, 2010 at 16:18










August 15, 2010 at 15:43







August 15, 2010 at 11:47







August 15, 2010 at 22:51







August 16, 2010 at 19:08







August 16, 2010 at
22:34





August 15, 2010 at 11:45




August 15, 2010 at 11:42




August 15, 2010 at 11:38




August 15, 2010 at 10:59







August 17, 2010 at 09:14







August 16, 2010 at 18:59