Britain's 'oldest smoker' dies after puffing on cigarettes for 95 years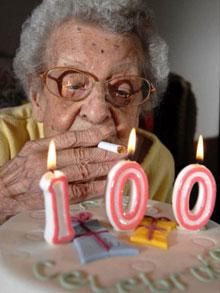 The great-great grandmother, who loved a good party, took her first puff aged seven, just after the First World War started.
Throughout her life it is thought the defiant OAP, who outlived her husband, son and all of her 10 stepchildren, smoked more than 170,000 cigarettes.
Mrs Langley, who made headlines at her 100th birthday after being photographed lighting a cigarette with a candle, began smoking to calm her nerves during the war
The pensioner, of New Addington, Croydon, south London, was recently persuaded to give up her habit due to her failing eyesight after she could not see the end of a match.
She had already cut down from her five-a-day habit to just one cigarette last year because of the credit crunch.
On Thursday, her family disclosed that she had died just one month short of her 103rd birthday after having beaten cancer in her 90s.
Speaking at her 100th birthday party, she said: "I have smoked ever since infant school and I have never thought about quitting.
"There were not all the health warnings like there are today when I started. It was the done thing."
She then told her local paper last year that she could no longer afford her habit.
"The price keeps going up, so I've cut down to one a day. I am not that well," she said. "My eyesight is very bad and I have to get someone to buy them."
Despite the numerous health warnings, she insisted she never suffered because of the habit because she "never inhaled".
Members of her surviving family, who this week attended a funeral service near her home, paid tribute on Thursday to the "feisty and stubborn" pensioner, who died late last month at her old peoples' home.
Anne Gibbs, who lives in Lincoln, Licolnshire, said her great aunt loved "Monopoly and cards" but never smoked inside.
"She always enjoyed a smoke and a drink. But it was a maximum of five cigarettes a day," she said.
"She stopped just before Christmas because she could not see the end of the match to light it. She said to me 'I miss them', but she was determined that would be it.
"There was a lot more to her than just smoking, she was a family person."
She added: "She was feisty and stubborn and she also had a wonderful sense of humour. She was incredible right until the end. She was a voracious reader and loved crosswords and puzzles."
Mrs Gibb said she got cancer when she was 88 but later "bounced back" before having a pacemaker fitted when she was 98.
"It was only the last six weeks her health deteriorated," she said.
Mrs Langley was born in Croydon in 1907 as one of seven children.
Before meeting her husband Bob, a world war veteran 28 years her senior, in a Croydon pub, she worked in a laundry and as a chamber maid.
Already a single mother, she moved into his home as a governess to look after his 10 children, before they married when she was 26.
↑