Integration and Minorities.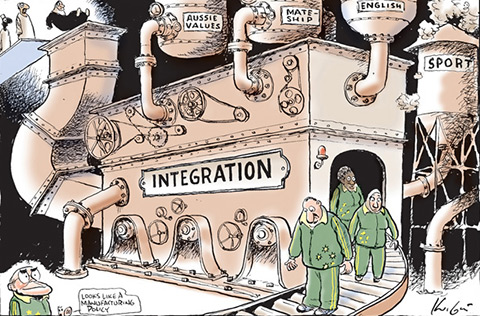 The perceived wisdom of the man in the Snug is that immigrant populations should be the ones to integrate, change their ways, learn the language, adapt to the strange food. They are but a small sector of the main population and should not demand change to accommodate their needs.
That is often easier said than done; learning a different language takes time, changing your mode of dress feels awkward, and there is surely nothing harder than giving up the comfort food of your youth.
When I first came to France, the only 'English' food that was available appeared on a market stall once a week. The trader was invariably late, his empty stall testament to the English lay-a-bed habit; when he did arrive, a ravenous horde would surge forward, grabbing jars of English mustard, a rarity in the land of several dozen different mustards; cheddar cheese in a country where there is a different cheese for every day of the month. All for sale at exorbitant prices.
The market stall gave way to shops in towns dominated by English owned homes, shops where an unwary 'monsieur/dame, bonjour' as you entered would be met with a stern 'Good Morning' to establish the fact that there would be none of that French nonsense in here. The shelves were lined with Atora suet, infinitely preferable to fresh suet which required that you address a French boucher; Mother's Pride soggy white bread, and Bisto gravy granules….
Eventually the supermarkets acquired first a small section of one shelf for those English staples, then a complete aisle. Now they line the aisles with signs in French and English for those who cannot figure out that Thé is Tea, and Café – Coffee. Even the tannoy advertisements are broadcast in English and French. I suspect the French view this development with as much suspicion and resentment as the English greeted road signs in Polish.
It is, of course, market forces at play here. The market is simply doing everything it can to appeal to a large potential customer base. What happens when that customer base becomes larger than the aboriginal population? They have just found out in Flushing, New York.
The aboriginal population of Flushing is now elderly, mostly single person households. They don't eat a lot. A single piece of chicken here, a lone meat pie there. It was no longer sufficient to support the Key Food supermarket which was the last establishment catering for their tastes. Every other shop is Asian owned and run.
The Asian shops cater for the bulk of the population of Flushing, who are just learning English, and unwilling to give up the food of their youth. They like noodles and Bok Choy. They find it easier to shop for them when the signs are in Chinese. The shop keepers oblige.
Groceries aren't the only source of tension. Residents also complain about Chinese and Korean signs on businesses such as pharmacies and private transport services. The signs aren't translated into English, so residents don't know if something's on sale or if a van might be going their way.
Now officialdom is stepping in to request that shopkeepers put up signs to identify food in English, and to stock food that is native to the elderly population who are neither sufficiently mobile to drive elsewhere, nor internet savvy to buy on-line.
Certainly in the UK, there would have been an outcry if officialdom had stepped in and demanded that private businesses translated signs into Punjabi or stocked a particular food 'by order'.
Will there be the same outcry if it becomes necessary to protect a minority population in this way when that minority is indigenous English, or indigenous French?
Does integration mean that the minority fit in with the majority, or is it purely a matter of 'who was here first'?
August 9, 2010 at 15:58




August 9, 2010 at 09:17




August 8, 2010 at 08:57




August 7, 2010 at 18:09




August 7, 2010 at 17:31







August 7, 2010 at 16:45









August 7, 2010 at 18:14







August 8, 2010 at 09:43




August 7, 2010 at 16:19




August 7, 2010 at 16:03







August 8, 2010 at 08:46




August 7, 2010 at 15:13







August 7, 2010 at 17:25